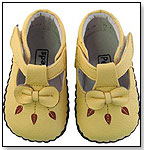 These shoes feature soft, cushioned leather soles with a foam pad and Velcro fasteners that keep them secure. They are suitable for indoor and outdoor use, and come in four sizes.
TDmonthly Review:
What Is It?
This pair of premium leather toddler shoes is outfitted with soft, cushioned soles and Velcro fasteners.
What We Thought
Not only do Pedipeds have a cute name, but they?re adorable and stylish in their design, too. The hand-stitching around the edges of this pair, hemming in the black-bottomed soles, gives it extra class, and the leathery smell right out of box lets buyers know they?re getting a quality product. The color scheme is multi-seasonal, so these shoes can have a long life, even as a hand-me-down.
Why They?ll Want It
These PediPeds are flexible for endless play and, despite their slipper-like appeal, are durable enough to be worn both inside and outdoors. They have a non-slip sole for safety, and little ones and their parents will likely have an easy time getting these shoes on and off. They?re so soft, flexible and lightweight that toddlers won?t have to bear the burden of trying to run around in clunky shoes. ? Julie L. Jones, 7/3/07