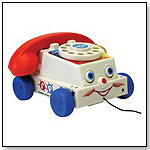 Introduced in 1962, the Chatter Telephone was designed with a rotary dial to teach children how to dial a phone. Today's Chatter Telephone makes children smile just the same with eyes that roll up and down, and a dial that rings. This friendly phone was re-introduced for a whole new generation of children to enjoy.
— Reproductions from Fisher-Price have been named as hot sellers since 2005 by the specialty retailers that talk to TDmonthly.
— Mike DiAndrea, manager of Hardware Center Inc., reported to TDmonthly sales of about 40 Chatter Telephones per week in November 2009.