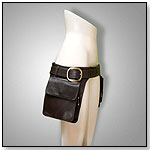 MSRP: $229.00
Gender: Girls
Designed with adjustable features for wear across this hips, this Hip&Go is equipped with a storage pocket on each side to carry a wallet, phone, keys, baby accessories and more. It is made of Nappa leather and features interior green lining with a velvety feel.
TDmonthly Review:
What It Is:
There?s only room for one diaper bag in this here town:
Like a gunslinger?s holster, the Hip&Go is designed to be worn around the hips to free up the hands for other activities, such as holding, swinging, changing or feeding baby. Constructed of luxurious Nappa leather and lined with a velvety fabric, this isn?t your average yes-I?m-mom quilted shoulder bag bulging with burp cloths and lovies. Each of its two pockets can hold a disposable diaper and some wipes, as well as essentials such as cell phones and wallets, which can slip into the convenient mesh holders inside the 6" x 6.4" x 2" pockets. The belt easily adjusts with snaps to fit hip sizes from 29? to 44?. Also included are two zippered inner pockets for passports or cash, plus two clips for keys and other items. It?s designed to be worn with a baby carrier, but moms can wear it sans-baby, too.
What We Thought:
The cool, unexpected Western design, plus the quality of the materials and construction will make the Hip&Go attractive to women inside and outside the mom-set. It?s convenient and stylish enough to be used by any professional ? such as hair dresser, artist or filmmaker ? who needs access to a number of implements while working with her hands. Mom, too, will appreciate a baby-related item that?s designed with her style needs in mind. The belt design minimizes the chances of the bag accidentally being left behind on a park bench, and the Hip&Go can be worn with jeans or dresses. Cowboy hats are optional!
What Others Thought:
A review on dirtydiaperlaundry.com lauded the Hip&Go?s stylishness and ease of use. The reviewer could fit a couple of disposable diapers as well as a wallet, keys, cell phone, wipes, lipstick and small onesie inside her pockets. She mentioned that the Hip&Go needs to be removed when driving, and I would say the same goes for chair-sitting ? it?s a little too bulky if you?re not on the go, but stays nicely out of the way when you?re active.
Why They´ll Want It:
Moms who don?t want to look like tween girls will appreciate the high-quality and sleek styling of the Hip&Go. It?s an item that will certainly be used long after baby has passed the diaper stage. In fact, mom might find herself dueling the kid one day for the chance to holster up with this leather carrier. ? Alison Marek 12/8/09
ToyDirectory Product ID#: 26285
(added 12/7/2009)

Advertisement: