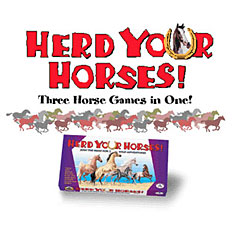 Learn how horses survive in the wild and to identify horses by breed, color and markings.Players collect a herd of horses as they race to the safety of Green River Valley. Our most popular game includes a deck of beautifully designed horse cards by equine artist K.L. Tafoya, each with name, breed, color, markings and biography of a fictional horse. Players can act as ranch hands or as wild mustangs rounding up herds and encountering dangers of the wilderness. Includes a solitaire game for solo play.
What they´re saying...
"Thank you so much for this terrific game. Quite honestly, it´s the best built, educational, and fun game I have ever purchased. Our entire family is sure to enjoy this for years." Cashion Family Tryon, NC
"I´m 10 years old. I have loved horses since I was one. I don´t have a horse but I loved this game and it makes me think I have a horse. R.R. Lewisville, TX
"I bought the game for my 3rd grade classroom. We use them at ´Choice Time´ and during indoor recesses. I like that there are many variations for each game." P.S. Boston, MA
"My daughter loves horses and was given this game as a gift. We have all had fun rounding our horses up and figuring out the best strategy for our herd. The game is recommended for 8 years and up, however our 6 year old son has won more then anyone." L.H.