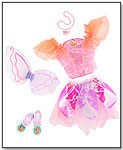 Age Range: 3 and up
Gender: Girls
Additional Entry
The Fairytopia series consists of fairy costumes stylish enough for Barbie.
-- Included are a lacy top, tutu, wings, slippers and a necklace for a total pretend experience.
-- The Fairytopia dolls and accessories have already been released and the DVD will soon follow.
-- A press release from Lion?s Gate Entertainment notes, ?It is important to note, that ´Barbie Fairytopia´ is a whole new immersive world that is very different from the Princess releases.?
This product has not yet been released but will be coming out later in 2005. Expect it to stretch toward the popularity of Barbie?s Princess and the Pauper series.
ToyDirectory Product ID#: 2883
(added 2/14/2005)

Advertisement: