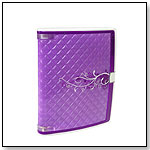 This updated Password Journal includes a new look and feel with some of the cool features tweens love most about previous versions including a microphone to record voice for security access. Also, a voice recording alerts you when intruders have tried to access your journal. This version has a new feature: a hidden compartment that only the user can access by using a second voice—activated password. The Journal comes with a pen and an assortment of fun stickers to decorate with. Light allows girls to share special messages with friends.
— As of 11/04/2011 this product was 19.99 on Amazon.com
— As of 11/04/2011 this product had 3.2 out of 5 stars from 26 reviews on Amazon.com. Cons: Sound quality is poor; batteries ran out quickly.