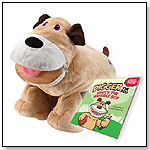 Always the faithful companion, Digger the dog digs deep to help anyone. In Digger's storybook, the kids on the playground discover the importance of including others. Ideal for reading aloud, this 33-page interactive book offers fun-filled rhymes and beautiful illustrations. Stuffies are clever, cozy toys on a mission to keep kids' treasures safe. They have top-secret pockets that are fun to discover and store all kinds of keepsakes.
Awards: 2012 National Parenting Center Seal of Approval; Parents' Choice Classic, Fun Stuff Award Winner
— As of 12/11/2012 this product had 4.8 out of 5 stars from 16 reviews on Amazon.com. Pros: Well made; Lots of pockets for kids to store their stuff; cuddly. Cons: One reviewer said the book accompanying the toy wasn't well written.