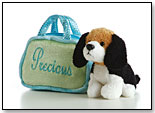 MSRP: $4.99
Age Range: 3 and up
Satisfied Pet Carrier owners will be thrilled that the number-one Aurora product is now available as a key chain or decorative accessory. Great for backpacks, purses or even existing Pet Carriers, the mini Pet Carriers are 3.5" and available in 12 styles. Each mini Pet Carrier includes a removable, lovable pooch (i.e., Poodle, Chihuahua, Beagle, etc.) and is embroidered with "Diva," "Sweet," "Princess," "Girls Rule," "Precious," "Charmed," "Super," "Chic," "Cool," "Rockin," "Best Friend" or "Dream."
— "For little girls, a cute stocking stuffer is these little pets in a purse," said Mark Slotin, owner of Imagination Station in Spartanburg, S.C.
— Pets in a purse has been a trend in plush this year, retailers agreed.
— The full-sized Fancy Pals were one of Aurora's best sellers for 2005, said publicist Dan Grody.
TDmonthly Review:
What Is It?
This adorable little puppy won?t have to go into the cargo hold on a plane because he comes in his own blue plush zippered and lined suitcase marked ?Precious.? Open the suitcase and that?s just what you?ll find: a precious little plush Beagle pup in black, tan and white. He looks up with soulful black button eyes, his head cocked hopefully, as if waiting for a delicious doggy treat. His tail?s cut short and his ear?s are cut long, but kids won?t have to worry where this little dog?s gone because his carry case comes with a hook that can attach to a belt loop or a purse. The suitcase also has two handles.
What We Thought
It?s very hard to actually put the puppy in his case. Not because he?s too big or the case is too small, but only because you don?t really want him to go ?bye-bye.? The purse is a pretty, sparkly blue plush trimmed with silvered blue cording for kids who are still into Bling Bling. And for the more sentimental, the puppy is as precious as a nonliving thing can be -- down to his shiny plastic nose and pensive expression. Also, the suitcase is washable. This isn?t the manufacturer?s claim; it?s the reviewer?s experience. A nice plum juice stain washed right out with soap and water.
Why They?ll Want It
It?s cute, it?s transportable, and it?s collectible. Since bags with bags are popular with Big Sis, Little Sis will like to add this suitcase/puppy combo to her own backpack, purse or book bag. Just small enough to sneak into school, the Mini Fancy Pals could become a girl?s best friend. The little suitcase is lined and sturdy, so when the pup?s out to play, his carrier can be used as a change purse or a jewelry carrier.


Aurora´s ToyDirectory Listing
-- Alison Marek, 8/9/05

ToyDirectory Product ID#: 4122
(added 8/9/2005)

Advertisement: