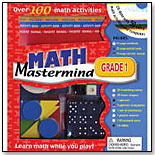 Math Mastermind: Grade 1 reinforces math skills and enables first–graders to apply math concepts through simple, engaging exercises. By following shape designs, constructing with blocks and playing card number games,
children learn to count whole numbers and recognize basic geometric shapes. The activities use such tools as dominoes, spinners and cubes — all included in the kit — to teach skills in the areas of observation, logical thinking, fine motor and eye–hand coordination and problem solving. It also helps early learners develop a positive attitude toward math while enjoying a fun educational experience. This all–inclusive kit includes a 52–page workbook, a 32–page activity book, a 12–page parent manual, a CD–ROM with activities, math games and a variety of components to reinforce the mathematical skills a first–grader needs to know.
READ MOM REVIEW
TDmonthly Review:
Please
click here
to read this special TDmonthly´s Expert Mom review.