February 2016 New Specialty Toys — Kits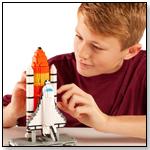 You don't have to be an engineer to create with Nano Blocks. With these micro-sized building blocks, a 3D Space Shuttle is constructed like never before. Watch in amazement as the Shuttle is erected to even the tiniest detail. With over 1600 assorted size pieces, create a detailed replica of the Space Shuttle, that fits perfectly in the palm of your hand. Includes detailed color instructions. Not designed for children under age 8. This would be a great addition to any collection and a perfect gift for any inspiring designer, architect or collector.
ToyDirectory Product ID#: 37468
(added 1/31/2016)
.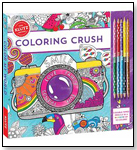 Coloring Crush includes everything you need to make dreamy, just-add-color works of art. And, for those who can't find the pointy end of a pencil, our introductory how-to guide includes a crash course in using colored pencils, blending and layering, color scheme inspirations and artist-approved techniques.
ToyDirectory Product ID#: 37466
(added 1/31/2016)
.
Sharpen your skills at Adventure Camp Archery with a bow with shooting function, knock-over target, rest shelter and a hedgehog. Includes a Mia mini-doll.
ToyDirectory Product ID#: 37465
(added 1/31/2016)
.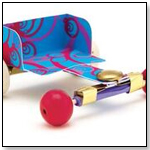 The Build with Stickers projects combine two things children love — stickers and building. Each kit includes novel stickering techniques — no glue involved — and all the materials to engineer, explore and turn their creations into playful, imagination inspiring toys. They get the educational bonus of engaging with engineering, physics and math through a fun-filled approach. Rising STEM stars can build a race car or learn about physics by crafting a sun lounge.
ToyDirectory Product ID#: 37453
(added 11/24/2015)
.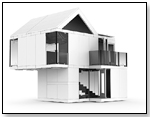 Based on today's contemporary building techniques, ARCKIT 60 consists of a series of interconnecting modular components permitting you to design, build and modify multiple structures. Ideal for creating smaller structures, student projects, interior designs, home extensions, and for learning the basics. This is also a great gift for budding architects. 220+ pieces, up to 650 sq ft floor area (to scale).
ToyDirectory Product ID#: 37451
(added 11/24/2015)
.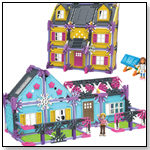 Build your dream house from the ground up with Brianna and Sophia in the Home Designer™ Building Set. Sophia loves building, while Brianna helps with the finishing touches of the interior. These best friends are a dynamic duo when it comes to building and decorating houses. Help them build different styles of houses - a colonial, a brownstone, and a ranch. Decorate the houses using the included accessories and make their home, your home with the Home Designer™ Building Set from Mighty Makers®. Most models can be built one at a time. Includes 433 K'NEX parts and pieces.
ToyDirectory Product ID#: 37448
(added 11/3/2015)
.
Bubble gum for days! Includes everything you need to create massive amounts of your own gum! Recommended for children ages 8 years and older. Includes corn syrup, gum base, confectioner's sugar, citric acid, and watermelon, vanilla, raspberry, extreme mint, blueberry, fruit punch flavor powders, along with silver foil wrappers, recipe cards and activity manual. Make 19 flavors.
ToyDirectory Product ID#: 37447
(added 11/3/2015)
.
Since 12/28/04 people have visited this page.