June 2015 New Specialty Toys — Dolls - Talking
Specialty: Yes (as of 2015)
Gender: Girls
Baby Stella can talk! Baby Stella Sweet Sounds doll features three sounds: pacifier sucking noise when pacifier is attached, giggling when foot is squeezed, and says "mama" when hand is squeezed. Sweet Sounds doll includes a pink, ruffled onesie with Velcro-like closures in back, and a pacifier that magnetically attaches to her mouth. Baby Stella by Manhattan Toy is an ideal first baby doll collection that will encourage little ones to role play, nurture and care. Baby Stella dolls are completely soft and beautifully crafted with life like details such as a belly button and perfectly plump tummy. You can change her outfits and every doll comes with a magnetic pacifier.
ToyDirectory Product ID#: 37320
(added 5/28/2015)
.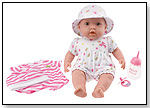 Age Range: 2 and up
Specialty: Yes (as of 2015)
SKU or Item #: 27100
Gender: Boys And Girls
Let's play the Tickle Game. Missy Kissy is ticklish, can you guess where? Is it her feet, her sides or her tummy? This 15" incredible interactive doll features real moving eyes and head, and plays the Tickle Game with you! Once you finish your game, she asks mommy for her bottle. Pretend feed her until she is full and then its burping time! Change her into her bedtime clothes and she is ready for a nap. Place the pacifier in her mouth and a sweet lullaby plays as she gently moves her head and closes her eyes. Missy Kissy Giggle Time is the interactive doll that loves to play the tickle game and even lets you know when she is tired and ready for bed! This is the doll that every mommy will love! Missy Kissy says up to 12 phrases and 2 songs, and even moves when you place the pacifier in her mouth. Her eyes open and close, her head moves. Set includes matching outfit and hat, pacifier, bottle, and additional outfit and hat! Check out her very own TV commercial for more fun!
ToyDirectory Product ID#: 37305
(added 5/21/2015)
.
Since 12/28/04 people have visited this page.

Advertisement: