June 2015 New Specialty Toys — Kits
The Praying Mantis is a fascinating insect with more than 2400 species in the world! With the Backyard Safari Mantis Mansion, you can watch the amazing life cycle of these unusual creatures, and you may even see some intense "preying" action! It's easy to set up and it even includes a coupon for ordering praying mantis online. The Mantis Mansion features the exclusive collectable Bug Wrangler: Mantis patch and pop-up field guide!
ToyDirectory Product ID#: 37319
(added 5/28/2015)
.
This 4m make your own garden stepping stone includes a 5.5" x 7.5" x 2-1/4" stepping stone and everything you need to create your own stone. create your own keepsake.
— Casey Sartain, co-owner of
Tutoring Toy
in Salt Lake City, Uah, told
TDmonthly
in a May 2015 survey that this was one of their best-selling activity kits.
ToyDirectory Product ID#: 37316
(added 5/28/2015)
.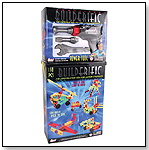 118 piece Builderific with 4-pc toolset including power drill. Durable plastic.
— Gregory Faith, owner of
Inside Out Hobbies
in Nashua, N.H., told
TDmonthly
in a May 2015 survey that this was a best-selling construction toy at their store.
ToyDirectory Product ID#: 37315
(added 5/28/2015)
.
Looking for unique, and interesting décor for your tween's room? It's easy and affordable to get the latest in modern interior design trends with the 3D Head Case™ Wall Art Kits by Fashion Angels. Simply punch out and follow the instructions to slide the bright and colorful patterned pieces together to form the coolest cruelty-free, cardboard wall décor. Then use the decorative stickers, gems, and puffy glitter appliques included with the kit to create the perfect accent and customize your Head Case. Remember: You don't have to be a head case to love our Head Case Wall Art kits… but it helps! Each Kit Includes: laser-cut puzzle boards, puffy glitter sticker sheet, decorative gems, paper flower, charm, lace trim, and instructions. There are 4 styles of Head Case Wall art kits - choose from a deer, dog, cat, or bunny – or collect them all to make a major statement (4 styles sold separate).
Awards: 2015 TDmonthly Top Toy Award
ToyDirectory Product ID#: 37313
(added 5/28/2015)
.

Poolside craft! Whether at the beach or pool, sunglasses are a necessity and trendy accessory. Have fun in the sun by decorating 3 pairs of sunglasses.
Includes resin shapes, rhinestones and gem strips to decorate sunglasses
Sunglasses available in 1 fun color, 1 glamorous glitter and 1 pair that even changes color in the sun – like magic!
BONUS-includes 3 sunglass cases
Sunglasses provide 100% UV protection-UV 400
Decorate, wear and share sunglasses with your friends
ToyDirectory Product ID#: 37297
(added 4/20/2015)
.
Get your tickets and your popcorn ready, the show is about to begin! With the Cinema Box from French toymaker Moulin Roty, children are given the pictures and they supply the story! Armed with a flashlight (batteries included) and five different rotating discs in the themes of Valiant Knight, Cowboy, Pirate, A Thief and Super Hero colorful images are shone on the box cover – which doubles as the screen – and the child tells an amazing story about each adventure. Also included is a movie poster so the child can fill in the date and time of the show and sturdy tickets that can be sold and then reused many many times for many many shows! Best of all Mom, all items fit back in the box and can be tied shut with the attached ribbon. Clean up is a breeze! Look for other items in Les Petits Merveilles such as Nighttime Shadow Puppets, Puppet Theater Curtain, Storybook Flashlights, and Hand Shadows. Imported Exclusively by Magicforest.
Attributes:
· Creative & Imaginative Play
· Storytelling
· Dexterity
· Scheduling
· Part of Les Petits Merveilles Collection by Moulin Roty


ToyDirectory Product ID#: 37288
(added 3/31/2015)
.
Since 12/28/04 people have visited this page.