June 2015 New Specialty Toys — Science & Nature
The Praying Mantis is a fascinating insect with more than 2400 species in the world! With the Backyard Safari Mantis Mansion, you can watch the amazing life cycle of these unusual creatures, and you may even see some intense "preying" action! It's easy to set up and it even includes a coupon for ordering praying mantis online. The Mantis Mansion features the exclusive collectable Bug Wrangler: Mantis patch and pop-up field guide!
ToyDirectory Product ID#: 37319
(added 5/28/2015)
.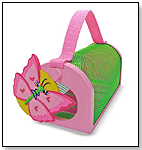 Bella Butterfly swings open on the easy-access door of this whimsical bug house. A sturdy handle, a beautifully striped floor and lots of air holes provide the perfect place to house and observe insects and bugs. Dimensions: 5.5" x 7.5" x 3.5"
— Mary Porter Green, owner of
Curiosity Zone
in Ashburn, Va., told
TDmonthly
in an March 2015 survey that bug houses are one of her store's best-selling outdoor toys.
ToyDirectory Product ID#: 37284
(added 3/30/2015)
.
Live aquatic creatures which you will bring to life, hatching them out of their hibernated egg state by putting them in water. Aqua Dragons look like three-eyed, long-tailed, hairy headed dragons. They swim and play graciously in their fascinating aquatic underwater world. Care for them and you will see them eat, grow, swim, play and reproduce. Comes complete with aquarium, eggs, food and feeding tools.
ToyDirectory Product ID#: 37278
(added 3/18/2015)
.
Since 12/28/04 people have visited this page.