October 2015 New Specialty Toys — Family Games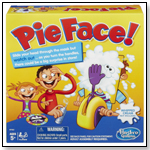 The exciting Pie Face game is filled with fun and suspense, and somebody's bound to get splatted! Just put some delicious whipped cream from home or the wet sponge on the "hand" of this hilarious game unit and start turning the handles. It could go off at any time, so keep your fingers crossed and hope you're not the one who gets a splat in the face! You score a point for every time you turn the handle without getting pie-faced, and the one who scores 25 points wins. Take some risks and hope for the best in this hilarious Pie Face game! Pie Face, Rocket Games and logo are trademarks of Rocket Games. 2014 Rocket Games. Hasbro and all related terms are trademarks of Hasbro.
ToyDirectory Product ID#: 37434
(added 10/26/2015)
.
Pickles to Penguins is the quick-thinking picture-linking party game! Don't fret if the party gets frantic - the guests are probably just having a blast playing Pickles to Penguins - the frantic party game where you link the pictures to win. Get rid of your cards the quickest by figuring out what your cards and the cards in play have in common. Do they share a colour? Are they both things you find in a salad or bring to a party? Exercise your lateral thinking abilities, but don't be too hasty or you may have to pick up penalty cards for stretching a connection too far. Take a deep breath and let the chaos begin! Hundreds of pictures, but how many can you link together?
ToyDirectory Product ID#: 37359
(added 7/29/2015)
.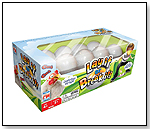 2 players compete in this game to help the chicken save her eggs! The farmer has collected the eggs and is ready to cook them. Players wear a plastic chicken beak, and attach a magnetic chicken clamp to their pants. Both players compete at the same time and, without using hands, remove the eggs one-by-one from the frying pan and transport them to the safety of the nest. If an egg falls and breaks, the player must start over. The player that collects the most 'unbroken' eggs in their nest the WINNER.


ToyDirectory Product ID#: 37340
(added 7/2/2015)
.
Since 12/28/04 people have visited this page.