October 2015 New Specialty Toys — Collectibles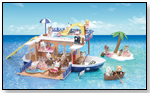 Specialty: Yes (as of 2015)
Welcome aboard the Seaside Cruiser, a fun house boat perfect for holidays or a weekend away! The house boat has lots of fun features including paddling pool, water slide, deckchair and parasol. Inside there are kitchen units, a table & chairs and bunk beds which can be transformed into a shower cubicle Includes Freya Chocolate rabbit dressed for ocean adventures. This set includes a mini boat to help your sylvanians get to shore without getting their paws wet, as well as their very own secluded island to visit. The side of the boat folds down to create more space, and you can slide right into the ocean.
ToyDirectory Product ID#: 37412
(added 9/30/2015)
.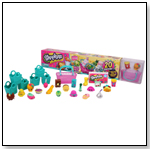 The Shopkins Mega Pack makes it easy for girls to stock up on their favorite characters! Featuring multiple characters and shopping bags, shopping basket and a collector's guide, this pack gives girls everything they need to complete their Shopkins world. Girls should be on the lookout for Ultra Rare or Limited Edition characters. Shopkins fans should shop to it now and avoid the rush at the check-out!
ToyDirectory Product ID#: 37402
(added 9/30/2015)
.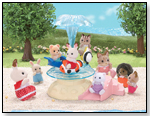 Critter babies love riding the merry-go-round! Merry-go-round spins as you turn the handle. Fish seats can detach from the carousel. Also features water spray & slide. Merry-go-round measures 6" x 4.5" x 6.5".
ToyDirectory Product ID#: 37390
(added 8/31/2015)
.
Own the Naboo Starfighter set with opening cockpit, spring-loaded shooters, eject function, access ladder, fueling station, stand and more.
ToyDirectory Product ID#: 37362
(added 7/29/2015)
.
Seventy-five million years ago, there really were sea monsters, and this long-necked Elasmosaurus from was one of them. Wild Safari® Dinosaurs and Prehistoric Life were created for the dinosaur lover in all of us. Each Safari Ltd® hand painted figure is designed to stimulate the imaginations of children of all ages.
ToyDirectory Product ID#: 37352
(added 7/20/2015)
.
The North American Bull Moose is one of the largest instinct species in the deer family. These males are known for their prominent antlers and are gentle forest inhabitants who prefer temperate to subarctic weather! Our Wild Safari® North American Wildlife collection represents the many animals, great and small, that call North America home. Professionally sculpted and individually hand painted, Wild Safari® North American Wildlife continues the tradition of quality toys you expect from Safari Ltd®.
ToyDirectory Product ID#: 37351
(added 7/20/2015)
.
Since 12/28/04 people have visited this page.