October 2015 New Specialty Toys — Infant & Toddler
This happy stuffed product is designed for baby gift, the sun, the star all are carefully added to pleased baby.
ToyDirectory Product ID#: 37443
(added 10/30/2015)
.
Your child can rock out and learn with the VTech KidiBeats Drum Set. This drum set for kids comes with a pair of drumsticks that can be used to tap the four different electronic learning drums. Your child can drum freestyle or play along to nine pre-set melodies in a variety of musical styles. Or for more structured play, they can follow the lights on the drums as they learn about letters and numbers. With four ways to play and a variety of fun sounds, your child will love learning to the music with this educational toy.
ToyDirectory Product ID#: 37427
(added 10/26/2015)
.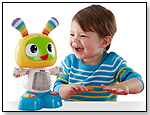 A press of BeatBo's tummy or any of the buttons on his feet activates fun songs, learning content and dance moves. This futuristic friend even allows mommy or baby to record a phrase, and he'll remix it into his favorite song! His 3 modes - Dance 'n Move, Learning & Games, and Customized Sing-Along - "grow" with baby to make him a fun, entertaining companion for years to come! And all the while, he's introducing baby to letters, colors, counting, music, cause & effect and much more!
ToyDirectory Product ID#: 37403
(added 9/30/2015)
.
Nello is a magic object and versatile, open-ended toy that quickly becomes an indispensable accessory for countless play activities, indoors and outdoors. It is a color puzzle, a nesting toy, a marble run, a floating island in the bath or a sand toy at the beach. You can roll, spin and swing the rings, throw and catch them. Use them as targets for games like tiddlywinks or as beautiful props for role and pretend play. Nello is made from high-quality, food-grade HD-PE, 100% recyclable.
ToyDirectory Product ID#: 37360
(added 7/29/2015)
.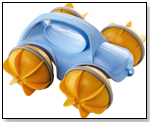 On land or in the sea ... wherever, playing is just fun with this vehicle. It's ability to glide across the water will make your bath or beach time engaging.
ToyDirectory Product ID#: 37354
(added 7/20/2015)
.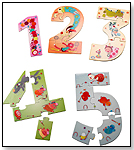 Count up the fun with this neat number puzzle set! Use the colors and pictures on each piece as clues to figure out what numbers they create. Count all the way up to 5! Both children and parents will love how the amount of puzzle pieces corresponds to each number. 15 pieces total, made of sturdy cardboard.
ToyDirectory Product ID#: 37353
(added 7/20/2015)
.
Since 12/28/04 people have visited this page.