October 2015 New Specialty Toys — Play Houses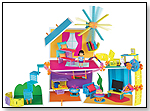 Girls can build their very own unique structures with the Roominate Chateau! Using the included building pieces that easily snap together, girls can tap into their imaginations to design two-level structures, bunk beds, balconies, a house on wheels, and other endless possibilities. Teaches important STEM skills: hands-on problem solving, spatial and fine motor skills, self-confidence, and creativity. Electrical circuits enhance designs so girls can watch their creations come to life with real movement, including spinning windmills, carousels, lamps, and more. Included in this 131-piece set are 8 wall/floor panels, 52 furniture building pieces, 32 connectors, 4 arches, 4 wheels, 2 axles, a motor, string of 4 lights, 2 switches, 2 battery packs, a screwdriver, doll, pet, and 20 sheets of craft paper. Requires 4 AAA batteries, not included.
.
Whether your child wants to play driving school or race with theirfriends, they won't need a driver's license to drive this durable tent! Your kids can use their imagination and zoom around the provided race tracks or make up their own games as they play. This "Driving School" tent was designed for car lovers. With enough space for your child and toys, they can play with their toy cars inside or outside.

There is also a 19" tunnel port to add more fun!


.