October 2015 New Specialty Toys — Play Sets
Enjoy an amazing stay at Heartlake City's Grand Hotel! Heartlake Grand Hotel over 3 modular stories has an elevator, lobby, 2 bedrooms, rooftop pool, taxi, 5 LEGO Friends mini-dolls and much more. Includes 5 mini-doll figures: Andrea, Olivia, Stephanie, Susan and Nate, plus a dog and a cat. The three-story Hotel features a lobby, reception area, cafe, jazz bar, master bedroom, single bedroom, rooftop pool area, functioning elevator, outside dining area, fountain and a black cab. The hotel lobby features a revolving door, chandelier, reception desk with computer element, cafe and a jazz lounge with stage, grand piano, saxophone and microphone elements. The master bedroom features a double bed, vanity desk and a sliding door to the balcony.
ToyDirectory Product ID#: 37436
(added 10/28/2015)
.
Create your very own treetop hideaway with the 3-in-1 LEGO Creator Tree house. Open the secret trapdoor and climb up the fold-down ladder. Use the gray bucket to lift supplies up with the winch. Fill the red bucket with water and tow it up to keep unwanted guests away. This detailed playhouse includes a yellow wagon for transporting all your favorite things to your treetop hideaway, a hollow tree for storing your secret treasure map and a dog. Remove the roof for easy access to the storage area and sleeping bag, or detach the entire Tree house. Rebuild into a cute lakeside hut with a jetty and pizza oven or a 2-story farmyard barn with a garden and wheelbarrow using the supplied alternate building instructions. Includes a child minifigure.
ToyDirectory Product ID#: 37433
(added 10/26/2015)
.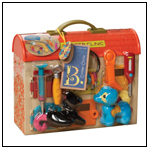 Our B. Critter Clinic features a hospital with 6 private rooms, 2 cute plush patients, color match keys and 5 tools. The stethoscope, mirror, syringe, tweezers and thermometer give you everything you need to make your "critter" all well.
ToyDirectory Product ID#: 37429
(added 10/26/2015)
.
Since 12/28/04 people have visited this page.

Advertisement: