October 2015 New Specialty Toys — Puzzles & Skill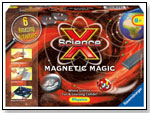 Can you make a paperclip float? What are magnetic fields? How does a compass work? These astonishing activities will reveal the fascinating world of magnetism. Success is guaranteed as you discover the power of this invisible force. Contents: 2 Ring Magnets, 1 Bar Magnet, 1 Packet of String, 1 Compass, 1 Washer, 1 Galaxy Map, 1 Fizz Token, Detailed Instruction Manual.
ToyDirectory Product ID#: 37385
(added 8/31/2015)
.
This puzzle features dramatic dinosaurs in an exciting prehistoric scene. 2' x 3' when complete, it features 24 extra-thick pieces with an Easy-Clean surface to keep them looking like new.
ToyDirectory Product ID#: 37374
(added 8/3/2015)
.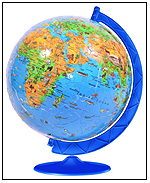 Perfectly crafted, curved puzzle pieces allow for an exact fit and are easily assembled together to form a solid, smooth ball - with no glue required! Includes Base Stand.
ToyDirectory Product ID#: 37373
(added 8/3/2015)
.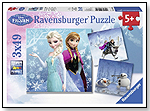 Three really bright and colourful Disney Frozen jigsaw puzzles for fans everywhere to enjoy! Each of the puzzles features key characters from the popular Disney Movie. Each puzzle is cut to 49 pieces. The puzzles are marked on the reverse with a different pattern, so that puzzle pieces can be readily sorted before being assembled Puzzles are an excellent way to encourage your child's observation, imagination and communication skills. Ask questions about the picture or get your child to talk about the picture – for example ask them to name the characters, what they think is happening, and even what some of the characters are saying. Ravensburger Puzzles are easily identified by the "blue triangle" logo.
ToyDirectory Product ID#: 37372
(added 8/3/2015)
.
A fun and educational way of discovering the planet. Each magnet represents a country or region of the world, with its name, capital and an illustration characteristic of that part of the world. The big magnetic board shows the world with its continents and oceans: the colour used for each region helps you find its place. Have fun putting each country in its place and you will have a wonderful map of the world which you can hang on the wall. Wood : Plywood (tray + magnets). Printing : sticked paper.Delivered shrinkwrapped. Cardboard wedge provided in the master carton to protect the world maps during delivery.
ToyDirectory Product ID#: 37371
(added 8/3/2015)
.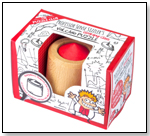 Professor Sense Sizzler's Volcano Puzzle is hot, hot, hot - and when you solve the puzzle we guarantee that you will lava it! Place the lava inside the volcano (point upwards!)then place the puzzle on a flat surface. Can you work out how to remove the lava without touching the volcano?
ToyDirectory Product ID#: 37363
(added 7/29/2015)
.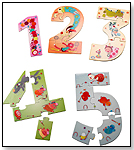 Count up the fun with this neat number puzzle set! Use the colors and pictures on each piece as clues to figure out what numbers they create. Count all the way up to 5! Both children and parents will love how the amount of puzzle pieces corresponds to each number. 15 pieces total, made of sturdy cardboard.
ToyDirectory Product ID#: 37353
(added 7/20/2015)
.
Since 12/28/04 people have visited this page.