January 2016 New Toys — Licensed Products
Classic! A super-soft chenille plush stuffed animal. So cuddly you'll never want to put it down!
ToyDirectory Product ID#: 37444
(added 10/30/2015)
.
Warm! This MINIONS folding plush pillow brings impressive character to life for super sized fun! he converts to a comfy pillow for , naptime, bedtime, travel time, or any time!
ToyDirectory Product ID#: 37442
(added 10/30/2015)
.
This is one sidekick who definitely comes in handy! Your R2-D2 Interactive Astromech Droid figure is packed with all kinds of features to help you fight the dark side—or just have fun throughout your day. This exciting little friend rolls, spins "dances" and plays music, "remembers" and reacts to famous Star Wars characters, guards your room, plays multiple games and can even find and follow you! And with awesome features like an illuminating light beam, infrared location sensors, an adaptable droid mood status indicator, a rotating dome, motorized indoor-terrain treads, a beverage holder and manipulator arm and special "secret" features, this figure is sure to keep the fun going for "light years"!
ToyDirectory Product ID#: 37435
(added 10/28/2015)
.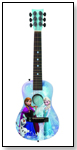 Playing music is powerful! This beginning guitar is designed and sized especially for young players. The guitar is adorned with sisters Anna and Elsa from Disney's Frozen, and it features great tone, comfort and playability. Low string action means easy playing for beginners. Patented string post covers protect little fingers, with stickers to show string names. Learn-A-Chord cards let you start playing right away.
ToyDirectory Product ID#: 37432
(added 10/26/2015)
.
The Disney Ice Castle Dollhouse by KidKraft is perfect for children who want to re-live the exciting scenes from Frozen with Ana, Elsa, Olaf, and the rest of their favorite characters. Is there more than one princess in the family? The Disney Ice Castle Dollhouse is large enough for multiple children to share in the fun and let their imaginations run wild. Everyone has plenty of space to recreate their favorite scenes with four rooms of play, all crafted with beautifully themed artwork from their favorite movie. This dollhouse has more than beautifully designed rooms of magic, the Ice Castle includes 11 pieces of custom furniture that fit perfectly into this magical world of make-believe! All furniture is crafted with beautiful, regal detail taken right from the magical kingdom!
ToyDirectory Product ID#: 37430
(added 10/26/2015)
.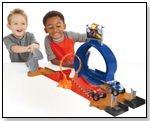 It's Race Day at the Monster Dome and crafty Crusher will stop at nothing to beat Blaze... even if that means building a chomping Sharkbot! Will Blaze race past the shark's mighty bite and speed on to win the race or will Crusher finally cross the finish line first? This track set can be configured into multiple layouts so race fans can recreate all the action and adventure of Blaze and the Monster Machines! Create side-by-side races between Blaze and Crusher or customize your set into champion courses of your choice! Two launchers will give the Monster Machines the speed and momentum they need to race around the track and perform spectacular stunts! Launch the trucks up a ramp and into a 360 Degree loop or speed through the ring of fire! The Monster Dome Playset includes Blaze and Crusher vehicles.
ToyDirectory Product ID#: 37428
(added 10/26/2015)
.
Since 12/28/04 people have visited this page.