March 2016 New Toys — STEM Skills
Fold the box to make the projector, add the lens and place the smartphone. Project videos on the wall.
ToyDirectory Product ID#: 37476
(added 2/29/2016)
.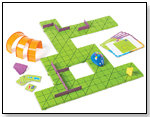 The race is on to build hands-on coding skills! Build your maze, and then use the coding cards to create a step-by-step path for Colby, the Programmable Robot Mouse. Program the sequence of steps, and then watch Colby race to find the cheese! This deluxe set includes 30 double-sided coding cards, 10 double-sided activity cards, cheese wedge, and Activity Guide to provide the perfect hands-on introduction to coding concepts. Create your path with 16 maze grids to create a 20" x 20" maze board, 22 maze walls, and 3 tunnels for endless possibilities. Colby lights-up, makes sounds, and features 2 speeds along with colorful buttons to match coding cards for easy programming and sequencing. Add multiple players with Jack, the Programmable Robot Mouse (LER 2841), sold separately. Colby measures 4"L and requires 3 AAA batteries (not included).
ToyDirectory Product ID#: 37475
(added 2/29/2016)
.
Have fun with Georello Junior, making all the colorful gears move by turning one gear with just one figure. Create a chain reaction that surprises and involve children in endless experimentations. Includes one clear base, nine colorful gears and nine matching discs.
ToyDirectory Product ID#: 37474
(added 2/29/2016)
.
What can be better than science you can eat! Each kits shows you how to make your own sugar crystals or rock candy. Educational booklet includes instructions on how to do the experiment and information about how crystals grow in nature.
ToyDirectory Product ID#: 37457
(added 12/10/2015)
.
Our new interactive line of educational science kits. Each kit explores a different topic and includes an educational booklet, 40" tall coloring poster with markers and hands-on learning activities.
ToyDirectory Product ID#: 37456
(added 12/10/2015)
.
Since 12/28/04 people have visited this page.