July 2012 New Toys — Miniatures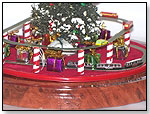 Wholesale Price: (Log in to view)
Minimum Order: (Log in to view)
Minimum Reorder: (Log in to view)
Ships From: (Log in to view)
Terms: (Log in to view)
Age Range: 3 and up
Specialty: Yes (as of 2012)
Made in: United States; China
Gender: Boys And Girls
Christmas Gift Set with Dual Track represents a unique, breakthrough magnetic propulsion technology design. It is capable of smoothly moving tiny objects along a very thin and narrow electromagnetic track. Two very small sets of trains or one set of train and one set of cars moves around on separate levels in opposite direction around the tree. Includes Choo, Choo locomotive sound, flashing LED light or Rainbow LED. Launch date: September 2012.
ToyDirectory Product ID#: 34497
(added 6/25/2012)
.
Specialty: Yes (as of 2012)
SKU or Item #: 79859
A classic carousel with a detailed boardwalk and railings. Many tiny lights highlight the carousel and are draped along the boardwalk. As the carousel turns, 25 Christmas carols or 25 year-round Classics play. Approximately 15" wide. Launch date: 2011.
ToyDirectory Product ID#: 34293
(added 5/22/2012)
.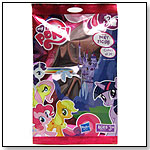 Kids can bring home the magic with this static 2 inch PVC figure. Each Mystery Pack contains 1 of 24 possible different ponies. Look for the 6 main characters plus tons of new characters and 3 chase pieces. There's something for everypony.
ToyDirectory Product ID#: 34072
(added 4/11/2012)
.
Since 12/28/04 people have visited this page.