October 2015 New Toys — Bath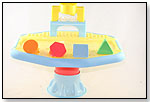 The New Tubby Table is the first and ONLY activity table for the bathtub that keeps water and toys INSIDE the bathtub and not on the bathroom floor. Parents and grandparents love this gift item because it has 3 different play areas for their kids to keep them entertained and focused during bathtime, AND it makes bathtime a calm and more peaceful experience for parents because the play is kept inside the tub. Grandparents often will purchase one Tubby Table for their home and another for their grandchild's home. It's unique, useful, and fun and at the right "gifting" price point of $39.99. The add-on activity mats + toys also make a perfect second gift for a birthday at only $14.99 each.
ToyDirectory Product ID#: 37375
(added 8/3/2015)
.
Specially designed for bathtime play, Corolle's Mon Premier Bébé Bath Baby Doll & Accessories is soft, poseable and so light it floats in water. In this boxed set, the doll comes complete with 8 accessories, including a snorkel mask with two different frames, floaties and flippers, too, for enhanced water play fun. Filled with polystyrene beads that dry quickly, this Bébé Bath Baby Doll will be your child's favorite playmate out of the tub, too. When bathtime is over, simply air-dry the doll by hanging it from the tab on the back of its neck. Bébé Bath Baby Doll features quality materials and careful attention to detail. Her face and limbs are made of soft, supple vinyl that is delicately scented vanilla -- a Corolle signature, and her blue eyes close when you put her down for a nap or at bedtime, just like a real baby. From waking to sleep, Bébé Bath Baby Doll will be your child's favorite companion.
ToyDirectory Product ID#: 37350
(added 7/20/2015)
.
Since 12/28/04 people have visited this page.

Advertisement: