November 2015 New Toys — Preschool
Fashion! Cute! Lovely! Go school, Go travel, Go shopping, kid need this, he'll be the coolest one!
ToyDirectory Product ID#: 37439
(added 10/30/2015)
.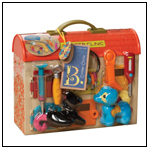 Our B. Critter Clinic features a hospital with 6 private rooms, 2 cute plush patients, color match keys and 5 tools. The stethoscope, mirror, syringe, tweezers and thermometer give you everything you need to make your "critter" all well.
ToyDirectory Product ID#: 37429
(added 10/26/2015)
.
The Trix Track Cat & Mouse Track is more than a classic wooden ball run with fun and exciting eye-catching tricks and an easy locking system that keeps your creations stable while you build your maze. With your imagination there are endless configuration possibilities! The Trix Track Cat & Mouse Track includes exciting new blocks that add an entirely new dimension to Trix Tracks which allow you to build faster and higher than ever before. Watch the mouse chase after the cheese thru many obstacles and the challenge of big cat waiting at the end of the track! Trix Tracks help understand the cause and effect relationship. Specially designed bricks are made from a combination of eco friendly recycled saw dust and food grade plastic so it is safe, durable and good for the environment. Combine with other Trix Track sets to create even larger tracks, more trix and endless fun!
ToyDirectory Product ID#: 37408
(added 9/30/2015)
.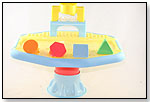 The New Tubby Table is the first and ONLY activity table for the bathtub that keeps water and toys INSIDE the bathtub and not on the bathroom floor. Parents and grandparents love this gift item because it has 3 different play areas for their kids to keep them entertained and focused during bathtime, AND it makes bathtime a calm and more peaceful experience for parents because the play is kept inside the tub. Grandparents often will purchase one Tubby Table for their home and another for their grandchild's home. It's unique, useful, and fun and at the right "gifting" price point of $39.99. The add-on activity mats + toys also make a perfect second gift for a birthday at only $14.99 each.
ToyDirectory Product ID#: 37375
(added 8/3/2015)
.
This puzzle features dramatic dinosaurs in an exciting prehistoric scene. 2' x 3' when complete, it features 24 extra-thick pieces with an Easy-Clean surface to keep them looking like new.
ToyDirectory Product ID#: 37374
(added 8/3/2015)
.
Since 12/28/04 people have visited this page.