December 2012 New Toys — Dolls - Talking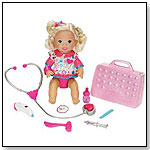 Age Range: 3 to 8
Specialty: No
Gender: Girls
This little girl is not feeling well, but her mommy can make her feel all better. As girls check on their toddler with the included medical instruments, the doll will interact with all sorts of phrases. She responds "Ahhhh" to the tongue depressor and giggles when the reflex hammer makes her knee pop up (it really kicks). The stethoscope makes a heartbeat sound and lights up, the ear checker goes from happy to sad with the click of a button, and the doll's forehead lights up red with a fever that the working medicine dropper will cure. Also includes a syringe, role-play name badge and doctor's kit that stores everything away neatly once baby feels better.
ToyDirectory Product ID#: 35477
(added 11/9/2012)
.
Wholesale Price: (Log in to view)
Dropship Available?: (Log in to view)
Ships From: (Log in to view)
Terms: (Log in to view)
Age Range: 3 and up
Specialty: Yes (as of 2012)
Made in: China
SKU or Item #: DOC-HAU-1001
Gender: Boys And Girls
Activated by clapping, Humerus the joke-telling Funny Bone tells dozens of hysterical knee-slappers that will have everyone falling down from his hilarious stand-up. Packaged in a Comedy Stage gift box, Humerus the Funny Bone makes the perfect gift for kids, adults, teachers, doctors (know any orthopedists?), and anyone with a funny bone. Launch date: November 2012.
ToyDirectory Product ID#: 35318
(added 10/19/2012)
.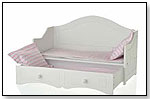 Specialty: Yes (as of 2012)
Gender: Girls
18 inch doll day bed with trundle bed. All wood construction, quality-crafted in traditional cottage beadboard design with a classic arched silhouette style, this bed comfortably sleeps 2 dolls up to 20". Trundle can be concealed under the day bed. Linens include two mattresses, pillows, pillow cases, mattress covers and coverlets.Measures 13"x22"x11".
ToyDirectory Product ID#: 35195
(added 10/4/2012)
.
Since 12/28/04 people have visited this page.