PLAY IT AGAIN, SAM
What Experts Tell Us About Musical Toys and Instruments
By Karen Mendez Smith
November 1, 2002



Mozart Magic Drum by Embryonics
It's a given that exposure to music early in a child's development enhances learning. But what benefits can we expect from musical toys in relation to "live" instruments?

Musical toys certainly have their allure, especially for retailers with limited shelf space. At Joseph-Beth Booksellers, Kids Store Manager Becca Jones believes that anything that helps a kid connect to music will lead to other experiences later on. "It's all good!" she tells us. "In our store, which caters to a very upscale, educated clientele, the Step-A-Sound Mat and Musical Hands Mat (both by International Toys) are always popular, even with adults. They really get a workout. Besides being kid magnets, they're easy to clean and maintain." Her personal favorite? "Musini, by Neurosmith. It's the toy I'll be buying my nephews this Christmas," she says. "That, and Sunshine Symphony by the same company, which really seems to inspire kids."
Marylee Kozlowski, winner of Kindermusik's 2002 Maestro Award, feels that the special vibrations of live instruments resonate directly into children's physical bodies -- as well as their souls. "The humanness of music speaks to the heart," she says. "There's a sense of community that happens when playing real music with authentic instruments. It's something you just can't replicate any other way." Kindermusik carries a full range of age and developmentally appropriate musical instruments, many which have an ethnic flavor.
Parent and veteran music educator Karen Holm-Hudson sees children gravitating with enthusiasm to both instruments and toys. But there is a difference. "You can feel how your movements interact with the natural materials of a real instrument to create a particular sound," she observes. "Especially with little ones, the interaction of movement and manipulation is key to learning."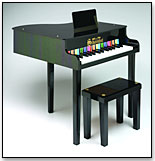 Schoenhut Concert Grand Piano
As new technologies and cognitive research come together to better support children's developmental needs, it's easy to see why products like motion-activated Musini, a recent 'Hot Dozen Pick' by ToyWishes Magazine, are getting the big buzz. "All Neurosmith toys are based on rigorous developmental research and must pass our Advisory Panel before reaching the market," Public Relations Specialist Millie Wang says. "We won't release anything we're not proud of." She promises interesting add-ons to toys like Musini in the coming year.
The real experts, of course, are kids themselves. What sparked their interest during a recent shopping foray? Between toys and instruments, the results were equally divided. An irresistibly elegant Schoenhut Concert Grand Piano (we can't wait to see the Elite Baby Grand for 2002!), a Mozart Magic Drum by Embryonics, a Fischer-Price 2-in-1 Crocodile Keys Musical Instrument and a Junior Accordion by First Act -- all took center stage.
Seeing them have that much fun, it suddenly didn't matter that all they knew how to play was "Twinkle, Twinkle Little Star".


---
RELATED LINKS:



Industry Overview: Music and Toys


Product Summary:


Musical CD's, Cassettes, Videos and DVD's for the Younger Set

Musical Toys Spotlight

Nothing Like The Real Thing, Baby

Side bar: Sing-Song: Music Makes Kids Smarter

Want to see more Musical Toys? Click Here...

Return to ToyDirectory Monthly front page: Click Here

Send comments about this article to: comms@toydirectory.com