NOTHING LIKE THE REAL THING, BABY
By Karen Mendez Smith
November 1, 2002



Even in this techno-driven age, when it comes to making music, real instruments still have a distinct edge over the bells and whistles of musical toys. But why?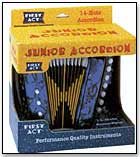 Junior Accordion by First Act
Karen Holm-Hudson, a Kindermusik Maestro, feels that although musical toys have their place, nothing can substitute for the experience of a live instrument. "It begins in the womb," she tells us. "We yearn for the resonance, the vibration of our mother's heart." Fellow Maestro Marylee Kozlowski agrees. "Music is more than just sound. It touches all the senses. Real instruments have an organic vibration that plastic or electronic music does not." All Kindermusik's instruments are age appropriate and developmentally-matched.
"People are definitely being drawn to toys that evoke the safety of childhood," observes Becca Jones, Kids Store Manager at Joseph-Beth Booksellers in Lexington, Kentucky. "We've seen a big return to classic musical instruments, especially since 9/11." They carry a full line of Small World Toys instruments to entice budding musicians.
But it's not just the sense of security that drives sales of live instruments. Hand-crafting definitely equals good business. Durability and value contribute to their appeal. "One of our best sellers is the Band in the Box by Melissa and Doug," Becca tells us. At $20, it's an incredible price point and parents love the quality construction of the instruments, all of wood, steel, and brass and housed in a wooden crate."
Band in the Box by Melissa and Doug
Recently, six children ages 4-15 were set loose in a local ZanyBrainy store to make (and hopefully not destroy) their selection of musical instruments. Here's what all the resulting ruckus was about:
The Little Tikes Melody Maker Gift Set including baby-sized drums, tambourine, Tap-a-Tune piano and maracas was a crowd-pleaser with something everyone could easily play.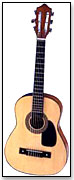 Folk Guitar by Hohner
The Junior Accordion by First Act held one child captive for at least five uninterrupted minutes. They all found it easy to manipulate and made tones pleasing even to stressed-out adult ears. First Act's 3-Piece Drum Set made one middle-school girl particularly happy. A 7-piece set is due out this holiday season.
The Hohner child-sized Folk Guitar was also a big hit for its surprisingly good tone and solid feel.
"For kids who really want to learn a real instrument, First Act is an example of a great, reliable brand," says ZanyBrainy Store Manager Candy Carroll. It lets them try an instrument at a reasonable cost, and all their products are very authentic." She finds the music section to be one of the most popular in her store. "It's universal. You can see in their faces that they've been inspired. And that's what we're here for!"


---
RELATED LINKS:



Industry Overview: Music and Toys


Product Summary:


Musical CD's, Cassettes, Videos and DVD's for the Younger Set

Musical Toys Spotlight

What the Experts Say: PLAY IT AGAIN, SAM


Side bar: Sing-Song: Music Makes Kids Smarter

Want to see more Musical Toys? Click Here...

Return to ToyDirectory Monthly front page: Click Here

Send comments about this article to: comms@toydirectory.com