Plush Toys Enhance Child Development
By Michaele Birney Arneson, with contributions by Heather Augustyn
November 1, 2002


Toys that help children learn about and interact with their environment play an important role in successful social and emotional development. For instance, sensory skills (vision, hearing, touch, taste, smell) develop more quickly during the first two years of a child's life than at any other point. For that reason, infant toys that maximize sensory stimulation are not only entertaining for children, but also aid in their successful development.
Puppy Tunes®
Some plush toys, like those developed by Lamaze® and marketed by Learning Curve International, Inc., are designed to encourage multiple areas of sensory development. For example, Puppy Tunes® allows the child to hear a different tone by squeezing each of the puppies four brightly patterned legs, each with a different color paw.

Eden® Lamb
Maureen Arseneau, a brand manager for Learning Curve's Eden® line, says there are "two worlds for an infant: stimulating and soothing." Learning Curve developed two brands to cater to these needs. Lamaze stimulates with lights, music, and a variety of different textures. Eden's lines are more soothing and nursery friendly, designed to calm the child and make him feel safe. Arseneau explains that the soothing aspect of a child's life is often overlooked by toy companies, but "soothing is an important part of a child's life."
Imaginary Worlds
As children approach the age of two or three, they begin to play imaginatively, a skill that, according to Jerome L. Singer, Ph.D. and professor of psychology at Yale University, "becomes the foundation for the inner resources of imagination that every adult requires."
Plush toys in the form of animals, or other objects children easily relate to, are used by children at this stage as they learn to interact with their environment via their 'created worlds.' And since children of this age enjoy tactile stimulation, products like Folkmanis® puppets that combine a plush texture with the functionality of a puppet especially engage the imagination.
Putting It Into Words
Plush toys can also be used to encourage or enhance how children express themselves and communicate with others. After volunteering at a crisis help line and realizing that even she sometimes had difficulty communicating with others, Aimee Markelz, founder and president of Talk Inc., looked for ways she could help facilitate this process with children.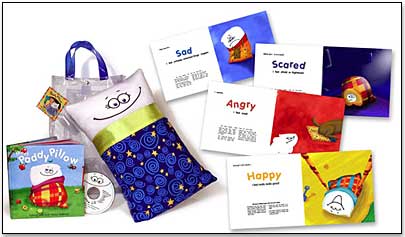 Paddy Pillow
With the input of psychologists, speech therapists, and social workers, Markelz created the plush toy Paddy Pillow to help parents and children explore the world of emotions together. Paddy Pillow, a soft little pillow who has a hard time naming and explaining how he feels, is used with accompanying books and songs to help children identify and relate to emotions such as happy, sad, love, scared, angry, shy, ashamed, and proud.
"Children relate to the physical object, and when a book or video is used with a plush character, they seem to catch on more easily," said Markelz. "I have heard from parents, teachers, and social workers who share stories about a child's attachment to Paddy and the new emotional vocabulary that child has."


---
RELATED LINKS:

Retailer's Viewpoint: Retailers Weigh In On Plush


Product Summary: Plush That's Good Enough to Eat


Past Present: A Century of Plush


Side Bar: Where Bears Are Born

Want to see more Plush Toys? Click Here...

Return to ToyDirectory Monthly front page: Click Here

Send comments about this article to: comms@toydirectory.com