The Stuff-Your-Own Biz
By Kris Decker
November 1, 2002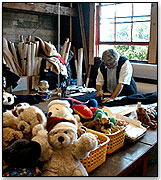 Basic Brown Bear Studio
According to founder Eric Woods, The Basic Brown Bear Factory (BBBF) began selling bears from their San Francisco factories "about a zillion years ago." Actually, it was 1976, and the idea was born when school groups toured BBBF's facilities. Eric and wife/business partner Merilee encouraged kids to help stuff the bears, and the kids so loved it that the Woods' eventually changed their business direction. In 1985, Eric adapted their original apparatus, an old life-jacket stuffing machine circa WWII, and established BBBF as a stuff-your-own-bear business. They became known as "The place where bears are born."
Nowadays, bear builders can visit any of BBBF's four locations - three in California, one in Minnesota's Mall of America. The highlight of the tour remains choosing a bear from over 30 different designs, then stuffing it on the fluffy stuffing machine.
BBBF also offers birthday parties, bear kits, custom-made bears, an award-winning video, and an interactive website (basicbrownbear.com). Each year over 65,000 children visit the Main Factory in San Francisco. Not too bad for just your basic brown bear.

The Red Bear Stuffer Machine
Bear Business is Big Business

For Janis and David Fenton of Fiber Products Northwest (FPN), the past 2-1/2 years have been "very, very busy." Their original business venture, manufacturing textile machinery, has evolved into a burgeoning worldwide enterprise: customized plush stuffing machines.

"We sell our models all over the US, and we're beginning to ship to England too," says Janis.

Even with constantly ringing phones and business pouring in via their website (thebearmill.com) the Fentons are committed to providing personalized service and customized machines. "In fact," says Janis, "we can build any type of shell a customer wants to fit their own unique design."

FPN offers three models for varying needs: The Bear Mill, a lightweight, portable machine used in kiosks and theme parks; The Bear Stuffer, a "plain Jane" style that can be adapted to fit a theme; and The Teddy Bear Express, their signature train version. The Fentons make sure that portability, interactive appeal, and a unique blowing system for uninterrupted stuffing--the elements that define success in stuff-your-own--come standard on all FPN machines.

Brian Levine, a mall cart plush vendor from Rhode Island and Massachusetts, puts it this way: "People…see it, the fluff moving around inside, and come over. We've had great success."
So who says a bear market can't be a good thing?


---
RELATED LINKS:

What the Experts Say: Plush Toys Enhance Child Development


Retailer's Viewpoint: Retailers Weigh In On Plush


Product Summary: Plush That's Good Enough to Eat


Past Present: A Century of Plush

Want to see a showcase of Toy Products? Click Here...

Return to ToyDirectory Monthly front page: Click Here

Send comments about this article to: comms@toydirectory.com