The Brass Ring
A New Board Game for Halloween Scares Up Fun for the Whole Family
By TDmonthly Staff
October 2003



You'd think being an emergency room physician would keep a person busy. Nonetheless, Dr. Paul Koch found time to create his own Halloween board game. "I thought I'd have lots of choices," says Koch, describing his search for a Halloween board game back in 1998, "but there was nothing out there." He ended up cutting and pasting pictures from children's books to create the prototype for his own game, Spooks - The Haunting Mystery Game (ToyShow). Retailers in Koch's local Detroit area now stock the game, with the company's website generating additional sales (spooks.us). Koch just finished taping a TV commercial that will air locally on ABC's Family Channel in September and October. A new edition of the game with play tokens is in the works for next year, as is a brand new game called Spys. "We are gaining momentum," says Koch. "We've even had inquiries for distribution in Europe." Not bad for a guy who started a game company with only his dog for a partner.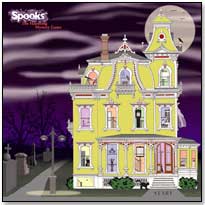 Spooks - The Haunting Mystery Game

Halloween Party

I'm an Emergency Physician, and a few years ago I wanted to have a Halloween party for the nurses and their kids. When I was unable to purchase a Halloween game for them to play, I made one instead. As it turned out, they loved it. The board game is now called Spooks - The Haunting Mystery Game ($19.95).

546 Mysteries

Spooks is played on a board designed like a haunted house, where the windows are spaces for movement. The fun and patented aspect of the game lies in its unique manner of card presentation and elimination.

Everyone participates by playing a card and making a statement such as, "Did anyone see the Ghost in the Hall?" or "I was in the Hall," or, "I didn't see the Ghost," etc., depending on the card played or the question asked.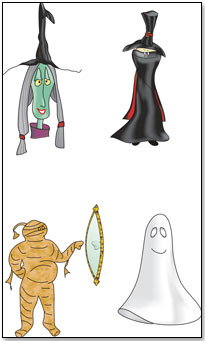 Spook's Playing Card

The game allows for a myriad of questions and statements involving haunting themes. It's interactive, fast paced, family-friendly and is played with a deck of 52 cards. There are 546 unique "Haunting Mysteries," or game solutions, and a nearly limitless number of ways to move through the house. So, it's unlikely you will ever play the same game twice.

Kids vs. Grownups

The game is for three to six players, ages 8 to adult, [and] involves deductive reasoning as players search for a predetermined answer secreted in the "Book of Spells." The patent allows the game to be played by 8-year-olds as simple card matching and elimination, and adults can enjoy it by employing different strategies.

Spooks comes with a toy coffin, which is used as a container to hold the discards. Called "The Legend," the scoring sheet functions as a way to keep track of eliminated spooks and hauntings, and true to its name, it is a list of truths and false leads.

A Dog's Inspiration

I formed the company a few years ago and named it Hootie Enterprises LLC, after my dog, in part because my dog embodies those ideals of "I love you," and "Let's play." I introduced this game last year in my local market and sales were enthusiastic. I'm proud to say that no one has ever returned it, despite my generous return policy: "14 days for any undamaged reason."

A Tough Year for Toys

I think that new game introductions have had some bad luck this year, with "the storm of the decade" at Toy Fair, war with Iraq during the other fairs, and SARS limiting travel and exposure. But these may turn out to be some of the reasons families stay home and appreciate quality play with an interactive board game.

Hootie Games challenges families to turn off the TV and put down the joystick, sit around a table and interact over a game that lets you enrich your life and mirror who you are in the people you love. Our company philosophy states that, given persistent exposure, a good product with innovative features will eventually be found [by consumers] and demanded.
---

Advertisement: