You Need to Goof-Off!
A Look at Toys for Grownups.
By Tim Connolly
October 1, 2002

Tiger Electronics' Laser Tennis® ($39.99)


Most psychologists will tell you that play is as necessary for adults as it is for children, both for stress relief and for engaging the mind in ways that our normal daily routine doesn't allow. On days when I manage to lose an entire afternoon to computer game mayhem, I take comfort in knowing that I'm acting with the benediction of modern science. As should you. The expected life-span in North America today is roughly 74 years; what else are you gonna do with all that time?

Tiger Electronics' Laser Tennis® received the 1999 Parents Magazine Award for being a toy both parents and kids could enjoy together. Or not. This portable tennis game is small enough to set up on your desk, with a bridge-like structure spanning the court and projecting a laser ball for the players to "hit" with reflective rackets. A computerized umpire calls out the score, and there are push-button game settings for one or two players (sorry, no doubles), with four levels of difficulty. The sound effects are realistic enough to have your co-workers wondering if you're watching a Wimbledon match in your office. Requires four C batteries and two 9-volt.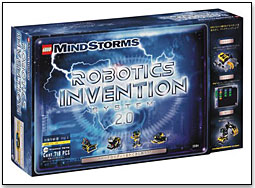 Mindstorms:® Robotic Invention System 2.0. by Lego ($199.99)
Lego may have unleashed a plastic Frankenstein with its Mindstorms:® Robotic Invention System 2.0. Graduate courses at MIT are using Lego robot systems, hackers are posting their own codes for the Lego OS on the Web, and some users are even creating their own OS for the Mindstorms platform. It's not hard to see why; with 718 pieces, 2.0 lets you create a host of robot vehicles and give them life from your home computer (windows 98 or ME). Each robot is built around the Lego RCX, a programmable microcomputer that receives commands via an infrared unit easily installed on your PC, and controlled with a user-interface that's friendly and intuitive.
Mindstorms Exploration Mars by Lego

A variety of robots can be built, such as a light-sensitive intruder alarm, or a robot that can move around obstacles to follow a trail. The kit comes with two motors, two touch-sensors, one light sensor, a "Constructopedia" (instruction book), and an infrared transmitter. There are also expansion kits available, such "Exploration Mars," which allows you to build your own Mars Rover able to relay images back to your PC via a standard Web-cam. (Cont.)




Want to see more Collectibles Toy Products? Click Here...