Not Your Average Bear
By Tim Connolly
October 1, 2002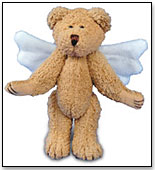 Angel Bear
Beverly Hills Teddy Bear Company specializes in creating designer stuffed toys without Rodeo Drive prices. Started seven years ago as an independent mail-order company, BHTB began producing customer-designed bears crafted by the company's own artists. Demand for their products grew so much that they now use 25 different factories to make their bears.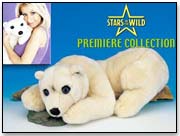 "Stars in the Wild" Bear with Christina Aguilera
The company offers several unique lines, such as "Birthstone Bears," one for each month with a matching birthstone nose. There's also a series called "Stars in the Wild," featuring exotic and endangered animals such as a cheetah, panda, and Harp Seal, each endorsed by stars like Christina Aguilera, Cindy Crawford, and NSYNC. And for those on a budget, there's the "Hero Collection" of exotic animals of a smaller size, at half the price. There's even a Christian line of Teddy Bears, such as a kneeling "Praying Bear" and winged "Angel Bear."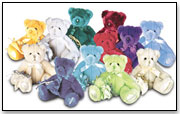 Birthstone Bears
BHTB also manufactures a wide range of licensed stuffed toys, such as Bob the Builder, Shrek, SpongeBob Squarepants, and even Frank, the far-out talking pug dog, from Men in Black II. Note to interested retailers: www. Bhteddybear.com features a wholesaler's page to make placing an order relatively quick and painless.

Want to see more New Products? Click Here...