"I set out to offer collectors beautiful dolls at an affordable price." — Mihaela Hinkle, Carpatina Dolls
Add a touch of fantasy to the romance of the past and you have a winning combination.
Carpatina Dolls
(
ToyDirectory
) are meticulous creations that showcase president and lead designer Mihaela Hinkle's talent. With a degree in fashion and textiles engineering as well as a love of history, Romanian-born Hinkle generated the idea of a period business.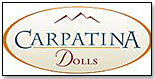 After manufacturing adult costumes for four years, Carpatina launched Fantasy Adventures in 2002, a line of dolls with continental flair. In 2003, it released the Girlfriends Collection, a new selection of contemporary clothing and accessories for American Girl-sized dolls.
According to Hinkle, whose company is based in New Hampshire, the beauty and quality of her product have set her apart from other small manufacturers. Her heirloom peasant blouses launched her career in America, a success that Hinkle defines as a "wish come true."
Although her doll fashions are focused on European medieval renaissance style, she will expand to other periods. She anticipates, however, that medieval times will remain a focal point in the future.
"Carpatina Dolls fill a gap in the market," she told TDmonthly Magazine. "There are plenty of lower-end play dolls available. And at the high end, you can find many gorgeous collectibles. But 18.5" dolls in the mid-price range that bridge the gap between play and collectible dolls are more rare. I set out to offer collectors beautiful dolls at an affordable price."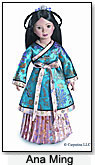 Hinkle wanted to design a doll that would appeal to older children as well as women. "No matter what their age, women seem to love the beauty and mystery of fantasy."
Along with doll designer Vernon Thornblad, Hinkle contributed to famous lines such as Stardust Classics, Little Sisters and Dream Doll Designer before launching her own Fantasy Adventures. The Carpatina doll is made of hard vinyl and kanekolan wig hair, and is suitable for girls ages 6 and up. The unique costumes make the line appealing to adult collectors.
Although Carpatina has specialized in romantic historical outfits, the company branched out in 2003. The Girlfriends Collection offers embroidered jeans, glitter jackets, evening gowns, hand-knit sweaters, tie-dyed overalls and ruffled nightgowns.
"Our customers love our Fantasy Adventure fashions for slim-body dolls," Hinkle explained. "But many also wanted to dress up the cloth-body dolls they already own in stylish, modern clothes. The Girlfriends Collection was our effort to give them a contemporary, yet elegant, wardrobe."
At the Toy Fair in February 2006, Carpatina introduced Ana Ming, an Asian-American doll, along with a Yuan Dynasty Princess gown designed especially for her in embroidered brocades. This is the fourth doll in the Fantasy Adventures line and it will begin shipping in late summer, joining Emma, Julia and Isabella. Carpatina Dolls are available directly through the company and at specialty stores.
What follows is more information on four Carpatina Dolls.