May 21, 2013

October 2007 | Vol. VI - No. 10


ToyOps Excels With Toys That Teach
Company Journeys From Failure to Favorite
"You go to the kids and mothers first. [If] they give you the thumbs up, at least you know you should go forward." — Dr. Eugene Hull, ToyOps Inc.

Dr. Eugene Hull turned raising funds for medical research into educational child's play. Armed with a Ph.D. in biological sciences and research on diapause (suspended animation), he established a biotech company called Heterocycle Research in 1985 that developed drugs to treat diseases such as AIDS.

"In 1990, we created Fish Boom Bah, instant live fish," Eugene told

TD

monthly Magazine. "Sales from that were supposed to drive the research portion of the business."

After moving the business from New York to Florida to take advantage of a larger space and sunshine — a key to growing the eggs — lead in the drinking water literally killed the project.

"I lost hundreds of thousands of dollars," he said.

GIVING TRIOPS A TRY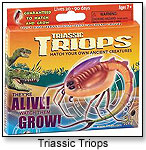 The setback didn't last, though, and Triops, crustaceans that look like little horseshoe crabs, launched in 1993. This educational toy is built on the same model as the instant live fish concept.

"You open the box and the educational difference and quality of the product are obvious," Eugene explained.

He took one Triops in a jar to the National Science Teachers Association show one year, and before the show concluded there was a 200'-long line of kids waiting to see it.

When asked to name his top-five best-selling toys, Eugene replied, "Triops, Triops, Triops, Triops and Triops. We sell millions of them."


But he's not resting on those laurels. "We're revamping our entire Triops line. We're working with some of the best designers in America to reinvent Triops to promote education, which is what this company is all about."

The additions are impressive: mazes so children can study the animal's behavior; habitats that allow children to watch Triops in their environment; exercise wheels; and LED lights for night-time observation.

REACHING WORLDWIDE

One critical decision Eugene made was to manufacture his product in China, where he gets great value for his manufacturing dollar. And thanks to the World Wide Web, the world is at his fingertips.

"We're always going to be revamping the website," he said. Each line that ToyOps develops will have its own branding site accessible from the main website.

There will also be a wholesale category that provides prices, specs and technical updates, as well as information for the 10 countries in which Toyops are sold.

THE MOMS HAVE IT


Eugene learned early on that "the mother is the buyer of all educational toys." An article in Discovery Magazine in August 1990 followed by articles in First and Family Circle about Fish Boom Bah attracted 25,000 letters, and only one was from a male.

"They all wrote the same thing: 'We are so happy that somebody is developing educational toys for our children that have meaning,'" he said. "I know one thing for sure: You go to the kids and mothers first. [If] they give you the thumbs up, at least you know you should go forward."

PLAYING FOR RESEARCH


And although Heterocycle is no longer in business, Eugene still places priority on research. "We are guaranteed and mandated to give money to the Diapause Research Foundation founded in 2005 for the development of research," he said. "I won't be in the toy market a day if that doesn't happen."

To learn more about ToyOps, read Underwater War: The Battle Between Sea-Monkeys and Triops from

TD

monthly's archives. Here are some of Eugene's best-selling Triops, Triops and Triops:
Triassic Triops DLX® by TOYOPS INC.



The Triassic Triops DLX (12 per case) measure 11" x 6.25" x 4.5". This all-inclusive kit includes a clear view aquarium and lid, a color information booklet, an instruction booklet, a sealed nutrient pack, a fossil replica, 30 to 50 cultured Triops eggs, a Triops food packet, a thermometer strip, a magnifying ruler, decorative colored gravel and glow-in-the-dark beads. 9/24/2007 (MSRP: $18.00; Age: 8 and Up)






Copyright © 2013 TDmonthly®, a division of TOYDIRECTORY.com®, Inc.