September 21, 2018

November 2007 | Vol. VI - No. 11


TDmonthly's Psychologist Mom
She'll Put Your Toys on the Couch
Dr. Wright doesn't just look at toys; she analyzes them. In and out of the box, she scrutinizes them for playability, appropriateness and educational value. The latter quality is especially important to this psychologist/mother, who also homeschools her three children.

This month,

TD

monthly Magazine's Psychologist Mom watches gladiators fight in a Roman arena, marvels over a diaper change kit, scrambles to have the last word and more, rating each product with 1 to 5

TD

stars (for

TD

monthly!); 5 is the top mark.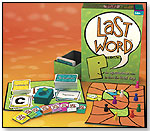 Last Word by BUFFALO GAMES INC.
Age: 8 and Up
Gender: Boys and Girls
Category: Card Games
MSRP: $27.99



TD

monthly rating:





The Dr.'s Impressions: The object of Last Word is to be the last person to come up with a word that matches the letter card and the subject card. For instance, C and vegetable would be carrot, cauliflower, etc. The last person to call out an answer moves forward. A time goes indicates when a turn is finished.

Kids' Perspective: The kids liked playing Last Word. They were frustrated with the first part of the game, during which the subject is chosen based on the first person to match his or her subject with the letter card. They also did not like how fast paced the game was; it became a little hectic. That said, once the flow was established, the kids enjoyed playing and asked to play again several times that week.

Recommendation: The timer did not work consistently and should make a sound instead of just flashing a light, which is easy to miss in the middle of play. The language skills involved in this game are stimulating and educational.

---
Arena by PLAYMOBIL INC.


Age: 5 and Up
Gender: Boys and Girls
Category: Play Sets
MSRP: $89.99



TD

monthly rating:





The Dr.'s Impressions: This playset is an awesome re-creation of a Roman arena. It measures approximately 33" in diameter and includes gladiators, spectators, animals, a caged lion and, of course, a chariot.

Kids' Perspective: My 8-year-old son gave up Playmobil years ago for more advanced kits such as LEGO and Erector, but he made an exception for the Arena. He has had a wonderful time reliving the gory glory days of the Roman Empire.

Recommendation: I consider this toy an historical educational kit. In fact, it sparked interest in reading up on the gladiators and architecture of the Roman empire. From our research, this little kit seems to be historically accurate.

---
Shrinky Dinks for Computer Ink Jet Printer by SHRINKY DINKS ® (K & B INNOVATIONS, INC.)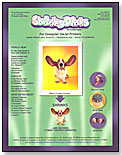 Age: 13 and Up
Gender: Boys and Girls
Category: Arts & Crafts
MSRP: $8.50



TD

monthly rating:





The Dr.'s Impressions: This kit allows one to take a photo, print it out on special paper and bake it until it shrinks. The item can then be used to make jewelry, ornaments, keychains or just about anything.

Kids' Perspective: The kids loved the idea but found the mechanics boring. They also couldn't decide what to stick their pictures onto and finally settled for putting them on card-stock to make small postcards.

Recommendation: Shrinky Dinks for pictures and graphics is a good idea, but the process requires a lot of effort. Perhaps the company should have an accessory section that covers some of the on-pack options that are shown, such as buttons or key chains.

---
Diaper Change Travel Kit by MUNCHKIN INC.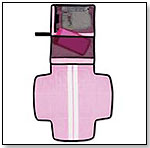 Gender: Boys and Girls
Category: Infant & Toddler



TD

monthly rating:





The Dr.'s Impressions: This is one beautiful bag. It offers a nice, clean surface for changing and has expandable mesh pockets that hold up to four diapers, as well as a zippered outside pocket for keys, lipstick or whatever else one might want to have on hand. It also includes an interior space for wipes, and the changing pad detaches for separate use.

Recommendation: I don't have a baby anymore, but I sure wish I had had this kit when I did. It would be a great gift for any new mom.

---
Clayton + Carol Cattle (Holstein) by Caboodle! Toys LLC (Noah's Pals)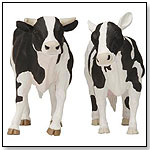 Age: 3 and Up
Gender: Boys and Girls
Category: Animal Figures
MSRP: $12.00



TD

monthly rating:





The Dr.'s Impressions: This intricate set of two Holstein cattle comes in a well-designed box that indicates it is part of a larger collection. The packaging is instructional. The cows are made of plastic, which was a disappointment, but they are substantial and nice looking. Included is a card that gives the "Noah's Pals" ID number, the family and scientific name of the animal and some basic information such as height and weight. It is supported by a website that also features information about the animal.

Kids' Perspective: The kids thought these cows were cool for about 30 seconds. Unfortunately, the cows are just one part of a larger collection and alone did not inspire any creativity.

Recommendation: If you are looking for a collection of animals, this would be a nice set, and the website offers quite a bit to enhance the educational experience.




Copyright © 2018 TDmonthly®, a division of TOYDIRECTORY.com®, Inc.