July 17, 2018

November 2007 | Vol. VI - No. 11


Homeschool Roundtable: Pirates Attack
Giddy Goose 'n Gander Pirate Games Go Into Battle
This month,

TD

monthly Magazine's Homeschool Roundtable families played two pirate-themed games from Giddy Goose 'n Gander: Piratack™ The Board Game and PiraTitan™ The Card Game. With treasure and battles in abundance, swashbuckling fun was had by all.

Roundtable participants are former corporate accountant Robbin Dawson with Ethan (8) and Sara (6); Alison Shanahan with Elizabeth (14), Emily (13) and Katie (7); Teresa Wilson, editor of "HOMES Newsletter," with Timothy (15), Andrew (12), Elise (8) and Steven (7); Jill Zuidema, former retail manager, with Alyssa (8); and Susan Ledford, editor of the "Homeschool Resources Directory for SC," with Victoria (12), Joe (8) and Griffin (2).



Piratack™ - The Board Game by GIDDY GOOSE 'N GANDER GAMES LLC
Age: 8 and Up
Gender: Boys and Girls
Category: General Games
MSRP: $29.95



TD

monthly rating: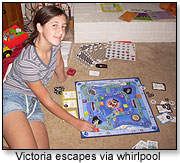 What It Is: Each of two to six players begins with three trading ships that can travel on seas stormy or tranquil, or via trade winds, to get from their home port to their foreign port. Whirlpools can be used to quickly get from one part of the high seas to another, and fate intervenes through Turn-of-Events cards. Once the timer rings, any ship can become a pirate ship and begin attacking other ships. Rolls of the dice determine which ship wins a battle. Any pirate ship that defeats another pirate ship becomes a Piratitan and has the greatest battle strength. The winner is the only ship left standing.

What the Moms Thought: Ledford said, "The box draws you in immediately." Wilson commented, "I always appreciate a game that allows more than two players." Shanahan liked that it is "complex enough to keep (her) interest." Zuidema said, "Some of us were less adept at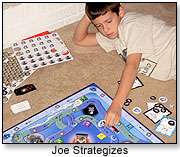 accruing cargo than others, but that's to be expected when you have scurvy, lice and are eaten by cannibals!" She also noted that the timed aspect allowed the game to get underway a bit before battle erupted.

What the Kids Thought: The Wilson children, along with other participants, enjoyed the pirate theme. Alyssa (8) learned that you can't trust a pirate, and that "Mom doesn't always play nice," Zuidema confessed. Overheard at the Wilson house, "Oooh, being a pirate is a good thing?" Shanahan reported, "The kids liked the idea of capturing each other's ships and becoming masters of the sea."

How to Improve It: Zuidema noted, "We found a lot of situations where the rules seemed vague or lacking," such as when two ships land on the same space. Ledford's family, asserting that "pirates make their own rules," adapted the rules for a more mathematical challenge by multiplying the dice numbers rather than adding.

Would You Want Another Toy Like This? "Battling for control of the high seas [and] flying the "Jolly Roger" — what more could a pirate wannabe ask for?" queried Zuidema. Victoria reported, "Joe (8) is delighted to be a pirate!"

---
Piratitan™ - The Card Game by GIDDY GOOSE 'N GANDER GAMES LLC
Age: 6 and Up
Gender: Boys and Girls
Category: Card Games
MSRP: $9.95



TD

monthly rating:




What It Is: This pirate-themed card game uses eye-catching graphics to encourage kids to quickly calculate the best cards to play to determine battle outcomes. Wild cards and the draw of the deck can thwart — or aid — an attack. Escape cards can end a battle immediately, and the Piratitan card trumps all … except another Piratitan card.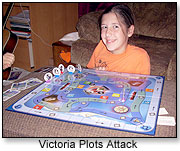 What the Moms Thought: "Very, very unique," said Ledford of the concept of a Piratitan, a pirate's pirate. Several moms liked the game's portability. The multi-player feature (two to six players) won Wilson's praise. She also appreciated that "younger players could participate as reading skills were not a dominant factor in play."

What the Kids Thought: "Yes! I am the Piratitan!" roared Joe (8). Shanahan said her children "liked the pirate theme of attacking to win treasure."

How to Improve It: Zuidema lamented that winning was based on chance rather than skill, and suggested that the directions be a little clearer on the circumstances for drawing cards. Initially, the Wilson children "had a bit of difficulty keeping up with the different types of cards," according to Mom.

Would You Want Another Toy Like This? "Everyone wanted to be the Piratitan!" Ledford reflected.




Copyright © 2018 TDmonthly®, a division of TOYDIRECTORY.com®, Inc.