October 10, 2015

April 2008 | Vol. VII - No. 4


TDmonthly's April Staff Picks
Spring Into Something New
Need some fresh stock to go along with springtime renewal? Check out these offerings culled from the hundreds of products recently added to

TD

monthly Magazine's searchable database:
Musical Can-Can Skirt by ACTING OUT



The skirt plays the music of the can-can, a style originated in mid-1800s Paris. The music is activated by a hidden button, and continues as long as the skirt remains in motion. The skirt features an adjustable Velcro waistband. Launch date: May 2008.
— "These musical skirts are great for imaginative play for girls from 2 to 6," said Jeanette Lauture of Aunt Jean's Toys & Treats in Montclair, N.J. "I like the on and off switch for parent sanity." The skirts dance out the door as best-sellers at her shop, she told TDmonthly in early summer 2008. 3/3/2008 (MSRP: $38.00; Age: 3 to 8)



Zoo Collection - Bobo the Baboon by ZOOBIES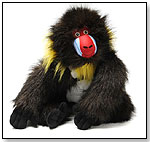 The baboon acts as a plush toy, but can be opened to form a pillow and blanket set. The Zoo Collection also includes seven other varieties: Poallu the Polar Bear, Taj the Tiger, Pin the Panda, Tama the Tortoise, Orazio the Orangutan, Gogo the Gorilla and Khimba the Koala (with baby Kai). Zoobie Pets have won various awards, including a 2008 iParenting Media Award, the Toy Man's "Best of Show" Award and the "Squeal of Approval" from Babies & Moms Radio. Launch date: 2008. (

Watch Video) 3/3/2008 (Age: All Ages)



Aminals - Liun by DREAMING LION LLC

Aminals are 100 percent certified organic inside and out, from their world for their world. 3/3/2008



Mini UFO Aquarium by TAIKONG CORP.



This all-in-one aquarium is equipped with a built-in air pump, a filtration system, LED lighting and a food dispenser. Made of 100-percent recyclable material, the eco-friendly aquarium allows children to decorate their own tank while enjoy learning about caring for pets. An interactive website will also be introduced with related aquatic information and games for members. Available in green or pink, Mini UFO is an ideal educational toy. 3/11/2008 (MSRP: $34.99; Age: 6 and Up)



The Chronicles of Narnia: The Lion, the Witch and the Wardrobe by TONNER DOLL COMPANY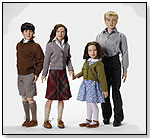 Part of the Tonner Character Figures collection, each Pevensie-sibling replica stands between 13" and 19" tall. Each is dressed in intricately detailed clothes, ranging from real buttons to lace-up shoes to custom-knit sweaters. Each doll is made of hard plastic and vinyl and features hand-painted facial details and 14 points of articulation. 3/12/2008



Bonz Band by CURIOUS TOYS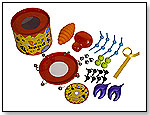 The instrument construction set consists of colorful, anatomically incorrect and interlocking construction pieces that children can use to assemble a variety of distinctive musical instruments. The set includes a CD of original music, a large metallic whistle, a canister with a top that converts into a tambourine and a bottom that converts into a drum, drumsticks, a washboard rattle, sand-filled shakers and four poseable eyes that turn the musical instruments into characters. The 42 construction pieces are all compatible with other Bonz sets. Launch date: February 2008. (

Watch Video) 3/12/2008 (MSRP: $26.00; Age: 3 and Up)



Fruit/Veggie Bibs by BABYGAGS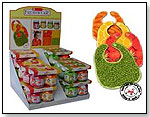 The bibs come in two varieties: peas and carrots, or strawberries and oranges. Each bib is made of organic cotton and is packaged in a food jar. Display cases hold 20 jars. 3/12/2008 (MSRP: $8.00)



Sweeters Pals by SWEETERS LLC.



The hand-knit dolls are made from 100 percent cotton and are U.S.-made. Each doll can be personalized. The MSRP ranges from $36 to $60 depending on the doll's size.
Launch date: October 2007. (

Watch Video) 3/12/2008 (Age: 0 to 17)



Girl Bag-Shaped Wooden-Peg Puzzle by LEE BROTHERS TOYS


Shaped like a bag for more distinctiveness, this high-quality wooden puzzle is constructed of solid wood, and thicker than the industry average. The puzzle pieces include colorful girl-themed images, directly silk-screened to the pieces with names of the pieces underneath. Educational and fun, it is a safe product at a great value. 3/12/2008 (MSRP: $9.99)



Costume Club Kids™ - Joshua & Puppy Costume by PADDYWHACK LANE LLC



This "poseable", 14 inch, quality-made, collectible Costume Club Kid™ has a soft cloth body and smooth vinyl head, arms and legs. Joshua has blue eyes, and his soft blonde, premium quality, hair is a joy to brush. Your child will cherish this Costume Club Kid™ for years to come! The line was created by a husband-and-wife team based on the personalities of their eight children. Launch date: January 2008. 3/14/2008 (MSRP: $69.99; Age: 3 and Up)



Help Me, Mr. Mutt! – Expert Answers for Dogs With People Problems by HOUGHTON MIFFLIN HARCOURT



By Janet Stevens and Susan Stevens Crummel, this book of letters and newspaper clippings outlines questions that dogs in despair send to an expert canine columnist. Mr. Mutt gives them advice — on sleep, barking, holiday dress-up, etc. — while battling letters from a cat who thinks she's pure royalty. Launch date: April 2008. 3/17/2008 (MSRP: $17.00; Age: 3 to 7)



Jazzy Toes: Original Variety for Boys by JAZZIES LLC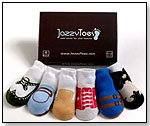 Each pair of socks comes with an elasticized ankle and a non-skid grip that help babies learn to walk without slipping. Each six-sock set comes in a ready-to-mail gift box. Socks sized for babies newborn to 1 year are $25 per set, while socks sized for 1- to 2-year-olds are $27 per set. A variety pack for girls is also available. (

Watch Video) 3/17/2008 (MSRP: $27.00; Age: 0 to 2)



Meteorlight by NITE IZE INC.



The ball lights up on demand and uses a design that allows batteries to be replaced. It is perfect for throwing, juggling, catching, rolling and bouncing. 3/28/2008 (MSRP: $12.99)



Pull-Along Zebra by PLANTOYS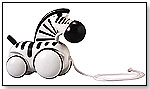 When pulling the zebra, the head will nod up and down and the back rolls as the hind legs spring up and down. For children 19 months and up. 3/28/2008 (Age: 1 and Up)



Big Eye Dummies - Milton by BIG EYE DUMMIES



Standing at approximately 12.5", Milton comes with two sets of interchangeable eyes and two mouths. Milton considers himself an expert in safety. Danger lurks around every corner, so he likes to be cautious and prepared for anything. Unfortunately, the wheels usually fall off his tricycle or he is chased by out-of-control lawnmowers. Big Eye Dummies "are sewn together with high-quality thread and don't use staples or nails," Creator Dave Lipson told TDmonthly. Launch date: June 1, 2008. 3/26/2008 (MSRP: $24.00; Age: 3 and Up)



Wise Alec™ by GRIDDLY GAMES INC.



Wise Alec is the new highly interactive party and family fun game from Griddly Games. The game is entertaining as well as educational and is tailor-made for family game nights. Wise Alec is filled with challenging questions for the young and old. This stimulating trivia game takes you back to everything you learned in grade school. With over 1,000 questions covering a wide range of interesting topics like history, science and spelling, this game is guaranteed to entertain time and time again. Each card features both easy and hard questions – great for leveling the playing field between big and little kids. The second edition of Wise Alec features updated questions, new packaging and a new game board. (

Watch Video) 3/27/2008 (Age: 8 and Up)



KID K'NEX Country Friends by K'NEX BRANDS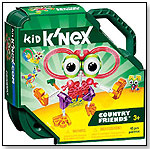 The colorful, 45-piece set is packaged in a convenient build-on storage case that comes with a handle for easy transport. The set also includes building ideas and instructions on how to create familiar animals from land to sea. This product is a 2007 Creative Child Magazine Preferred Choice Award winner. 3/26/2008 (MSRP: $9.99; Age: 3 and Up)



Color Zoo - Dakota the Donkey by ALLEN AVE., LLC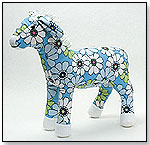 Color Zoo animals are designed to delight, entertain and comfort children with bright, vintage patterns and fun, colorful designs. Made for hugging, snuggling and fun, this Color Zoo animal is large in size and can stand upright. Color Zoo will bring to life a world of exotic and fun animals. The limited edition, handmade animals and surface washable and feature embroidered eyes and noses, a 100-percent cotton cover, polyester filling and felt-covered footing. Dakota the Donkey comes in blue (shown), green, orange and white floral prints. 3/26/2008 (MSRP: $19.95; Age: 0 and Up)






Copyright © 2015 TDmonthly®, a division of TOYDIRECTORY.com®, Inc.