July 22, 2018

April 2009 | Vol. VIII - No. 4


See Teenies to Tweenies Product Videos
New Stuff for Babies and Big Kids
Babies don't know anything and tweens don't like anything, but these new products will tempt both ends of the child-age spectrum. TDmonthly videos can help you decide what's right for your store.

Retailers: Did you know you can broadcast TDmonthly Toy Videos from your website? (See website terms of use.) Manufacturers: Find out how a TDmonthly Video attracts buyers.
First Toddle® — The 5-in-1 Infant/Toddler Play, Entertainment and Development System by First Toddle, Inc.



Created to be fun, supportive and safe for baby's first steps and toddler play, this entertainment and developmental system provides an area where baby can crawl and later aids the child in learning to stand and walk. It was named 2009 Toy of the Year in the Toddler Educational System category by Creative Child Magazine.
Awards: 2010 NAPPA Honors Award Winner, "Best Bang For The Buck."

Past Videos: Toy Fair 2009 (

Watch Video) 1/29/2009 (MSRP: $149.95; Age: 0 to 3)



Cory Caterpillar by HABA USA/HABERMAASS CORP.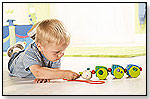 The 12"-long, three-piece body has lopsided wheels that happily waggle the caterpillar across the floor. With a smiling, friendly caterpillar face, the product features sturdy beechwood construction with non-toxic, water-based, lead-free stains. Launch date: 2009. (

Watch Video) 3/6/2009 (MSRP: $25.00; Age: 1 and Up)



Ducky Duck by HABA USA/HABERMAASS CORP.



This duck has a 7"-long, three-piece body with oversized floppy duck wings, along with a cute orange nose. It features sturdy beechwood construction with non-toxic, water-based, lead-free stains. Launch date: 2009. (

Watch Video) 3/6/2009 (MSRP: $30.00; Age: 1 and Up)



Rollino by HABA USA/HABERMAASS CORP.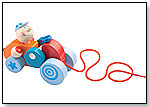 Made in Germany out of native, reforested beechwood and stained with a non-toxic, water-based, lead-free stain, the product is designed to remain vibrant for many years to come. The back wheels are a bit smaller than the front wheels so when pulled a crazy up and down motion appears. The back wheels have small round wheels atop with red circles that provide an interesting optical effect. The interior blue wooden axis with wheels is able to be removed so children can imagine they are towing something around with Mr. Rollino. Launch date: 2009.
— Haba wooden infant toys are good sellers at Green Frog Toys in Portland, Ore., Owner Patricia Fiedler told TDmonthly in March 2009. "They're lovely and affordable." (

Watch Video) 3/6/2009 (MSRP: $40.00; Age: 1 and Up)



Snap Caps® Rock Star by m3 girl designs LLC



Snap Caps® are the original, interchangeable, magnetic bottle cap necklace. This collection of Snap Caps offer designs for the girl rock star, from images of zebra stripes to hot pink iPods. (

Watch Video) 3/4/2009



Toothbrush Holder by COLORI USA/TATIRI

Kids will love Tatiri's toothbrush holders with timer! It teaches them how long to brush the teeth with fun! (

Watch Video) 4/8/2008



Tube Jewelry by COLORI USA/TATIRI



A collection of bracelets and necklaces in a wide variety of color options. (

Watch Video) 3/30/2009 (Age: 5 and Up)



Twilight Turtle by CLOUD B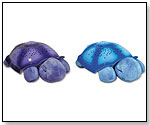 Each Twilight Turtle and Friends character from the collection projects constellation nightlights that create a magical sleep-time environment. Each "shell" illuminates the night with three soothing color options to help ease fear of the dark. The Twilight Collection includes Twilight Turtle and Twilight Ladybug, each available in three colors and a Twilight Sea Turtle that also has five illuminated windows projecting images of sea life.
— Retailers surveyed by TDmonthly have been naming the Twilight Turtle as a best-seller since 2006.
— Six of 66 retailers mentioned one of the Twilight Turtles as a top-selling item for baby gifts in July 2008. Four of 47 retailers named Twilight Turtle as a top-selling baby gift in June 2009. Three of 64 retailers cited it as a top-selling infant and toddler toy in March 2009, and eight of 39 said the same in March 2010.
— In a 2012 survey, Erika Evers, owner of Dancing Bear Toys in Hendersonville, N.C., told TDmonthly that their best selling infant & toddler product is the "Twilight Turtle from Cloud B, and it's spin-offs, like the ladybug." They sell about 20 units each month.
— Want this? As of 05/06/2011, this product was available for purchase at Toys & Co.
AWARDS: 2010 TDmonthly Top Seller (

Watch Video) 3/30/2006 (MSRP: $34.00; Age: 2 and Up)



Twilight Ladybug by CLOUD B


This plush planetarium projects a starry night sky onto bedroom walls and the ceiling, illuminating with red, blue and green lights.
— Kate Tanner, owner of Kidstop Toy & Book Store in Scottsdale, Ariz., was impressed with this product at Toy Fair 2008, noting, "the Twilight Turtle was extremely popular over the holidays."
— "I love this collection," Owner Michelle Smith of Piccolo Mondo Toys in Portland, Ore., told TDmonthly of this good seller at the end of 2008.
THIS PRODUCT IS NO LONGER AVAILABLE. SEE THE RE-LAUNCHED TWILIGHT LADYBUG HERE. (

Watch Video) 11/28/2007



Gentle Giraffe™ by CLOUD B



Gentle Giraffe offers a compilation of soothing sounds designed to entertain, educate and help children achieve a better sleep. Tucked inside Gentle Giraffe's back is a removable sound machine that plays four sounds specifically composed to transport young listeners to the beautiful and mysterious plains of the Serengeti. With Gentle Giraffe, kids will listen to the rhythmic drums of a native tribe, gaze over the cliffs of Victoria Falls and hear actual sounds from real giraffes. A portion of the proceeds from the sale of both products will benefit Conservation International Foundation, a wildlife conservation organization. This product received a 2009 iParenting Media Award and a 2009 NAPPA Honors award. (

Watch Video) 2/25/2009 (MSRP: $28.00; Age: 0 and Up)



Sleep Sheep on the Go™ by CLOUD B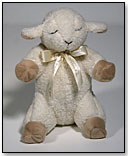 Cloud b is proud to announce the arrival of Sleep Sheep travel size. Finally, parents will have an extra sleep companion to take on the go. The award-winning Sleep Sheep has four soothing sounds to help baby sleep better: Stream Sounds, Whale Songs, Spring Showers and Ocean Surf. At 8" tall, Sleep Sheep can go along on car rides, strolls and more. This item is designed for travel and to attach to car seats and stroller. Launch date: October 2006. (

Watch Video) 3/30/2006 (MSRP: $22.00; Age: 0 and Up)



Tooth Rad Dog by DOUGLAS CUDDLE TOYS



Tooth Rad Dog is one of 4 styles…each style in 2 sizes. These funky mongrels come with attitude! (

Watch Video) 3/16/2009 (MSRP: $15.00; Age: 3 and Up)



Blue/White Floral Quilti Dog by DOUGLAS CUDDLE TOYS



One of 4 styles of large dogs, 3 styles in mini Quilti Dogs..a bouquet of fresh flower fabrics, hand picked for Quiltis. (

Watch Video) 3/16/2009 (MSRP: $16.00; Age: 3 and Up)



Peppermint Swirl Sassy Pet Sak by DOUGLAS CUDDLE TOYS



This holiday dress-up Sassy Pet Sak is a tote style and comes with a black lab puppy that is removeable. The bag measures 7" wide. "The design and unique choice of fashionable materials" set this item apart, Erika Radich, marketing manager for Douglas Company, told TDmonthly. "It is a toy and an accessory all in one!" Launch date: September 20, 2008. (

Watch Video) 10/27/2008 (MSRP: $15.00; Age: 3 to 8)



In Floral Gear Sillo Purse by DOUGLAS CUDDLE TOYS



A working purse in the shape of an animal, made of the newest designer prints with zipper enclosure, side pocket, and shoulder strap. (

Watch Video) 3/16/2009 (MSRP: $19.00; Age: 3 and Up)



ZFBN057 Up up in the Sky by Flik Flak


Cute butterfly flies among flowers into a fresh light blue sky. The dial is adorned with white crystal stones.

Watch case made in aluminium with mineral crystal glass, shock-resistant, water-resistant and machine-washable (40°C/104°F).
SWISS MADE (

Watch Video) 3/24/2009 (Age: 3 and Up)



Shains - Recycled Bracelet with 60 Elements by SHAINSWARE



Shains Bracelets are part of the Shains line of fashion accessories and an easy way to begin stylizing one's own fashion. Comes with the full alphabet and seven icons. Available in a variety of colors. Shains are cool, recycled fashion accessories that empower people of all ages to make their own statements — and change them anytime. "Shains are unique in using recycled materials and in their cool colors and new product selections, including unique ponytail holders and backpack keyclips," Owner Ewa Martinoff of Shainsware told TDmonthly. Launch date: 2008. (

Watch Video) 12/12/2008 (MSRP: $12.00; Age: 5 and Up)



Boikido Eco-friendly Wooden Carole the Caterpillar by BOIKIDO

This environmental friendly wooden caterpillar is made of wood from FSC monitored source, painted with water based paints, packaged in a box made of recycled materials and printed with soy bean ink. Parents and gift givers will be proud to have made an environmental friendly purchase. Carole The Caterpillar is smiling – she's having fun as your little one learns to put her together. This puzzle activity introduces children 18 months or older to the basic skills required to organize and assemble the four pieces of the happy caterpillar. A terrific first puzzle for little fingers. Tested to meet European and U.S. safety standards. (

Watch Video) 3/25/2009 (MSRP: $21.99; Age: 1 and Up)




Videography by Alison Marek and Amanda Wilder. Edited by Alison Marek.





Copyright © 2018 TDmonthly®, a division of TOYDIRECTORY.com®, Inc.