September 25, 2018

August 2009 | Vol. VIII - No. 8


TDmonthly's Top 10: Baby & Kids World, Tokyo
Flat Vases, Cushion Tubs and Pixel Art Made Their Marks
Japan's first-ever Baby & Kids World trade show, held concurrently with Reed Exhibitions' GIFTEX and DESIGN TOKYO shows, welcomed 106 exhibitors July 8-10, offering a variety of juvenile care items, clothing, toys and accessories. The trio of exhibitions saw more than 19,000 visitors, an increase of 24 percent over last year, with a collective gathering of 476 exhibitors from 20 different countries and regions. The following list includes innovative baby, gift and decor items that stood out as TDmonthly Magazine walked the floor:
Vazu™ Vase - RipRop Curved Green by TH+E DESIGN GROUP LTD.



This flat, flexible vase expands into a three-dimensional piece of art when filled with water, and stands upright while displaying flowers. Several designs are available in addition to this classic curved model. It has a tear-off top. 7/20/2009 (MSRP: $6.00)



paintdots Tote Bag by TERANISHI CHEMICAL INDUSTRY CO. LTD.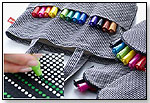 The paintdots collection of totes and pen cases allows individuals to decorate their product with the included markers based on dot-color instructions generated from an image uploaded to the paintdots Simulator program. The tote has three pockets on the exterior and there are two sizes of pen cases available. 7/30/2009



Large Toy Basket – Gypsy Van in Raffia by RICE A/S


This colorful storage basket with handles and a curved roof measures 50 cm x 30 cm x 44 cm. 7/30/2009



DrinKlip™ by BEEEEN.COM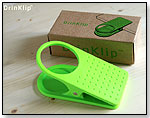 Designed by Been KIM, the DrinKlip is designed to clip right onto tables or desks in order to hold drinks securely without requiring surface space. It is available in a several different colors. 7/30/2009



Peititen Cushion Baby Tub-Bed by WORLD INDUSTRY CO. LTD.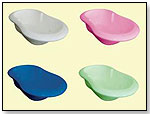 Designed for versatile use as a cradle, bathtub and crib for babies, the Peititen Cushion Tub-Bed features a cushioned floor and wall for comfort, with an antimicrobial surface that makes it safe for even newborn babies. Available accessories include a cradle and baby tub stand. It is available in white, pink, blue, cobalt and light green. The company makes both round (shown) and neckrest types. 7/30/2009 (Age: 0 and Up)



Windmill Tape Dispenser 2 by WONIL INDUSTRIAL CO.



Designed for quick, simple cutting of Scotch-type tapes, this dispenser cuts large quantities of tape to a 3.8 cm length with a single rotation of the handle. It may also be used as storage for pens, scissors or name cards. The product is available in pink, light blue and yellow. 7/30/2009



Otto™ Table and Chairs by BLOOM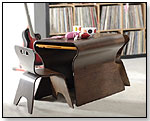 Made out of patented stylewood, this contemporary set features clean lines, chairs that nest perfectly underneath the table, and slide-out storage trays. It is available in cappuccino, natural, cappuccino orange, and natural orange. It is suitable for children 18 months and up. The table length is 31"; height is 21.5". 7/30/2009 (MSRP: $450.00; Age: 1 and Up)



Wall Stickers Small Kit - Shimmer Butterflies by MIMILOU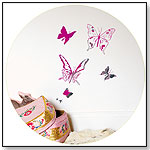 This set of butterflies can be used to jazz up a wall in a child's room. The decals are designed to be easily repositioned on walls and furniture, without damaging surfaces. 7/20/2009



mOmma Tot Cups With Straw by ENTREX INCORPORATED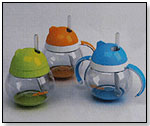 Available in blue, orange and lime green, these portable round cups feature a lid with a sturdy straw, and a clear body so the drink level can be monitored. They may be used with one or two handles, or without. 7/30/2009



Smart Trike "Recliner" by Smart Trike U.S.A. LLC



The unique 4-in-1 Smart Trike Recliner designed for babies from 6 months and up, provides the child with a safe and comfortable ride. The adjustable seat is equipped with a reclining position to allow baby to nap. The multi-position adjustable handle guarantees an easy solution for the parents to steer and, by releasing the clutch, the child takes control for fun, independent riding. The Smart Trike Recliner includes a washable, quality seat cover and is available in a range of colors together with a useful functional bag. It is available in green, pink and red. Smart Trike "Recliner" is the winner of the "Toy Innovation" Award in the Fun + Sport category and "Right Start Award" Overall Winner in the 0-3 category and "Gold award" in the Sit n Ride category.
— As of 05/13/2011 this product had 4 out of 5 stars from 20 reviews on Amazon.com. Cons: Doesn't easily stay in a straight line; sun shade doesn't align with the rest of the trike.

Past Videos:
Product Demonstration (

Watch Video) 7/30/2009 (MSRP: $200.00; Age: 1 to 2)




See also TDmonthly's top-10 lists from these tradeshows: 2009 ASTRA Marketplace & Academy 2009 Western States Toy & Hobby Show 2009 American International Toy Fair





Copyright © 2018 TDmonthly®, a division of TOYDIRECTORY.com®, Inc.