July 16, 2018

May 2010 | Vol. IX - No. 5


Novelties Stretch and Splat on Film
Random Toys Expand the Limits of Fun
Stressed out? TDmonthly Magazine's toy videos from 2010 trade shows have some easy, low-cost solutions for easing the tension. Try splatting an egg, stretching putty or a penguin's hair, or creating unlimited designs with a set of tiny constructors from Nano Magnetics.

Nanodots 216 Magnetic Constructors by NANO MAGNETICS LTD.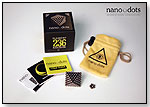 Nanodots are sets of spherical magnets (dots) held together by magnetic force. You can use them as a stress ball, putty, or constructor to build fascinating creations. Inspired by the miniature craft of nanotechnology, Nanodots are designed to supply players of all skill levels with endless fun and creativity, wherever they go. The magnets are protected by a shiny resilient surface with anti-bacterial properties, offering the benefit of industrial, kid-proof strength in a lightweight form. "There is no predefined set of rules one has to follow. As the players advance their skill levels, they experiment with magnetic properties and discover a diversity of unique applications. Nanodots can be rearranged into an infinite number of formations and original compositions," Tim Szeto, Director of Sales & Marketing, Nano Magnetics Ltd., told TDmonthly. Available in Original ($29.99), Black/Silver ($34.99), and Gold ($39.99). Launch date: September 2009.
— Jeanette Lauture, owner of Aunt Jean 's Toys and Treats in Montclair, N.J., sells about three Nanodots per week, she said in autumn 2010. (

Watch Video) 1/14/2010 (MSRP: $29.99; Age: 8 and Up)



SplatBack Egg by DJDS INTERNATIONAL LLC

Do you like your eggs hard-boiled or sunny-side up? Well you can have both with this egg. Have it whole or make it SPLAT sunny-side up! When thrown onto the ground, SplatBacks splat into a flat, liquid-looking mess, then morph back into their original shape.

Past Videos:
WTHRA 2009 (

Watch Video) 3/11/2009 (MSRP: $5.00)



Straws and Connectors - 230 piece set by ROYLCO INC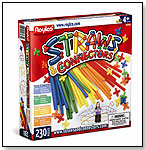 Straws and Connectors are colorful plastic straws and connector pieces that are simple to use for hours of imaginative play. Children can make play houses and forts, design buildings, or even engineer spacecrafts with this design and build set. The package contains 230 pieces and includes an idea guide.

Past videos: Toy Fair 2010 (

Watch Video) 3/30/2010 (MSRP: $15.99; Age: 5 and Up)



Strange Attractor Thinking Putty by CRAZY AARON ENTERPRISES, INC.

Deep black with subtle green sparkles, this slightly stiffer Thinking Putty has a mind of its own. Near a powerful magnet it comes alive! Strong enough to defy gravity. It can even lift tacks and paperclips on its own after charging in a magnetic field. One would be mesmerized by the invisible forces at play.
— Candace Gooch, owner of At Once All Agog in Limerick, Maine, told TDmonthly in July 2010 that this product is one of her top-three best sellers. She cited sales of 12 in the last month and three in the last week.
— In a late Summer 2012 survey, three out of 12 retailers said Crazy Aaron's Thinking Putty was their bestselling novelty item. Richard Gibson, owner of Learning Express of Newton in Newton, Mass., told TDmonthly that the putty brings in $5-6,000 a year, and "the best is the magnetic one."
— In a Fall 2013 survey, three out of 12 retailers told TDmonthly that Crazy Aaron's Thinking Putty was their best-selling novelty toy. (

Watch Video) 11/19/2009 (MSRP: $10.95)



4D Vision Anatomy Kits by TEDCO INC.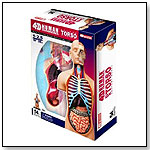 This 4D educational biology series includes kits on human anatomy, cell and plant biology, and animal figures complete with anatomical guide. Tedco's 4D Vision Anatomy Kits expand to include cross-section models of Sea Life and Mammals. Launch date: 2010. (

Watch Video) 3/30/2010 (MSRP: $12.00; Age: 7 and Up)



Alice In Wonderland (S2) Minicell Special Edition by FILM CELLS LTD.

From the mind of visionary filmmaker, Tim Burton (Edward Scissorhands, Beetlejuice, Charlie and the Chocolate Factory), comes a unique new twist on the classic tale Alice in Wonderland. Alice Kingsleigh is a beautiful 19 year-old, quite out of place in a world of rules and tradition. One day she is lured from a garden party by a White Rabbit and falls into a rabbit hole where she re-enters the outrageous dreamlike world of her childhood. A magical world where rabbits talk and cats disappear into thin air. Only this time, they've been expecting her. The fate of Underland lies within her hands. Alongside the Mad Hatter, Alice embarks on a fantastical journey to end the Queen's reign of terror and attempt to restore peace to Underland. Cast: Mia Wasikowska, Johnny Depp, Anne Hathaway, Helena Bonham Carter, Matt Lucas. The film strip portrayed in the image above is only an example of the film cells one may receive. Cells may vary from piece to piece because they are hand selected from reels of film. This item contains clips of film, an image portraying the movie(s), artist(s) or character(s) and a stunning descriptive plaque. These elements have been double mounted and placed within a beautiful black wood frame. Each item comes with an official © Trend Setters Ltd. certificate stating its authenticity. (

Watch Video) 1/25/2010 (MSRP: $28.99; Age: All Ages)




Retailers: Did you know you can broadcast TDmonthly Toy Videos from your website? Manufacturers: Find out how a TDmonthly Video attracts buyers.





Copyright © 2018 TDmonthly®, a division of TOYDIRECTORY.com®, Inc.