October 9, 2015

March 2011 | Vol. X - No. 3


March Staff Picks
Bring the carnival to your backyard with the new Cycle Fly'r, teach kids about animal rescue with a game from Petsapalooza, or use one of six trillion card combinations to create a story with The Storymatic. Be sure to scroll down for all of TDmonthly Magazine's March picks:
Plush Animated Animal Banks by MARK FELDSTEIN AND ASSOCIATES INC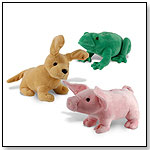 These soft, plush animal banks carefully guard jingly treasures in their tummies. Available in Dogs, Pigs, and Frogs, these banks move and play their respective animal sounds when coins are added. Animated Animal Banks also aid in teaching and encouraging children to save their money.
Awards: The 2011 National Parenting Center "Seal of Approval" 2/9/2011 (MSRP: $19.95; Age: 3 and Up)



Build-A-Drop by EDUSHAPE LTD.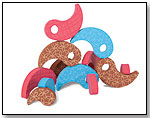 27 pcs of uniquely designed thick, chunky foam droplets stack and stay in place, allowing for creative design outcomes. Encourages creative thinking. Launch date: February 2011. 2/9/2011 (MSRP: $39.99; Age: 2 and Up)



Fur-Ever Home, the Animal Rescue Game by PETSAPALOOZA LLC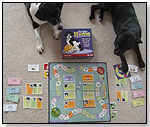 Fur-Ever Home, the Animal Rescue Game is a family friendly board game of chance and skill where players take in dogs and cats, care for them, and adopt them out to loving "Fur-Ever Homes". The game ends when all players have worked together and there are no more pets in Straytown. The player with the most points from placing dogs and cats in Fur-Ever Homes wins. But, players have to make decisions about money to stay in the game. "It is the first board game on the market where players get to test their skill at running their very own animal rescue, and adopting out animals to Fur-Ever Homes," Carianne Burnley, CEO of Petsapalooza LLC, told TDmonthly. 2/9/2011 (MSRP: $29.99; Age: 8 and Up)



Hexbug Nano Glow in the Dark by INNOVATION FIRST LABS, INC.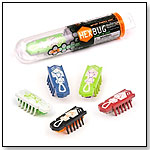 The regular Hexbugs and the HEXBUG Nano Hive Habitat Set won the Specialty Toy of the Year Award at the 2012 American International Toy Fair. This glow in the dark version features the same motion sensors and scuttling capabilities that made the original version so popular. Glow in the dark habitats are also available. Batteries included.
— Jamie Merlavage of Tree House Toy Shop in Cumberland, Md., told TDmonthly in a Summer 2011 survey that they sell about a dozen HEXBUG Nanos each month.
— Mary Porter Green, owner of The Curiosity Zone in Ashburn, Va., told TDmonthly in a Summer 2011 survey about best-selling toys that she sells a dozen HEXBUGS each month.
— In a March 2012 survey, 2 out of 12 retailers told TDmonthly that Hexbugs were their best selling product. Mike DiAndrea, manager of Hardware Toys in Paoli, Pa., said that they sell dozens of different styles of Hexbugs each month, and that the line has been a best seller for more than a year now. 2/18/2011 (MSRP: $7.99; Age: 3 and Up)



Baby Face Photo Quilt Playmat - Jumbo by GENIUS BABIES INC.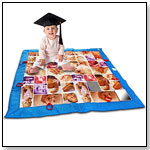 This baby photo quilt measures 4 feet by 4 feet and features a baby-safe mirror and peek-a-boo flap. The mat also crinkles, alerting parents that baby is crawling. 1/26/2011 (MSRP: $29.95)



Science on a Fossil Dig by THE YOUNG SCIENTISTS CLUB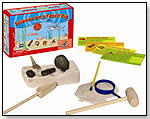 In this simulation of a real paleontology fossil dig, children dig for a fossilized shark tooth, brachiopod shell, gastropod shell, and "squid" shell. These real, millions of years old fossils are enclosed in a "brick" and are revealed by using the supplied scraping and brush tools (similar to what real paleontologists use). Young paleontologists then take a closer look at these fossils with the enclosed magnifying glass and learn about each fossil using the provided fun fact cards. "This is a unique fossil dig in that there are 4 real fossils embedded in each brick," Esther Novis, president of The Young Scientists Club, told TDmonthly. Launch date: January 2011. 1/25/2011 (MSRP: $15.00; Age: 5 and Up)



The Storymatic by THE STORYMATIC CORP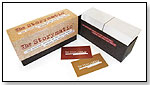 The Storymatic is a writing prompt, a teaching tool, a parlor game, and a toy, all in one little box. Combine a few of the 500+ cards, and watch a story take shape. Six trillion story combinations are possible. "I made the first one while teaching creative writing at a small Vermont college...my students kept asking me to make more than one so they could buy it and play with it outside of class with their family and friends. Finally, I took their advice," Brian Mooney, president of The Storymatic, told TDmonthly. Additionally, "The Storymatic is made here in the U.S., in a printing plant and box factory that have both been in continuous operation for more than 100 years." Launch date: March 2009. 1/25/2011 (MSRP: $29.95; Age: 12 and Up)



Travel Friends - Locomotive by ANATINA TOYS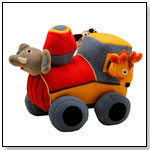 Travel to incredible places in this plush locomotive with three jungle friends. Don't forget to change their places from time to time so they can see all the views. Velcro allows child to switch the three animals between the locomotive's two windows and nose. Also included is a canvas carrying tote. Made of Polyester Fiber. Surface wash, air dry. 1/13/2011 (MSRP: $29.99; Age: 1 to 5)



Cycle Flyr by Cycle Fly'r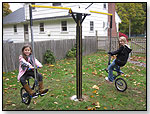 Cycle Flyr is a home playground ride that combines the fun of riding a bicycle with the "flying sensation" of a carousel. Kids pedal on the bicycle-style seat and are lifted into the air, rotating for as long as they keep pedaling. "There are no similar products on the market and this is a first one-of-a-kind playground/backyard ride," Michael Bishop, partner at Cycle Flyr, told TDmonthly. (Prototype Only.) 1/12/2011 (MSRP: $799.00; Age: 3 and Up)



Dragonflies Scramble Squares® 9-piece Puzzle by b. dazzle, inc.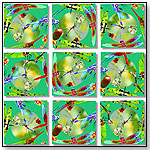 The Dragonflies Scramble Squares® puzzle features some of the most beautiful of the varied Dragonflies' coloration. The object of the Scramble Squares® puzzle game is to arrange the nine colorfully illustrated 4" x 4" square pieces into a 3 x 3 pattern to form a 12" square so that the realistic graphics of the dragonflies match perfectly. Each puzzle package includes a panel of facts on dragonflies, as well as a trivia question and hidden answer to the trivia question.
Awards: Dr. Toy 100 Best Children's Products - 2010 10/11/2010 (MSRP: $8.95; Age: 4 to 12)



Double Barrel Crossbow by MARSHMALLOW FUN COMPANY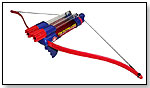 The Double Barrel Crossbow fires mini marshmallows from two magazines. (

Watch Video) 2/23/2011 (MSRP: $37.95)



Pure Nature Organic Line - Guardian Angels Toni and Tine by HABA USA/HABERMAASS CORP.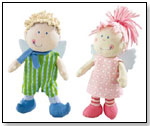 Baby will stay safe and secure when they cuddle with either of these Guardian Angels, Toni or Tine. The plush dolls are made of organically farmed cotton, which produces the highest quality cottons for both the threads and the outer materials. All "pure nature" textiles are produced in accordance with the GOTS (Global Organic Textile Standards). The GOTS standards for organic textiles and the use of raw materials ensure safety not just for children but also for the environment. The polyester filling has been tested under the Oeko-Tex Standard 100 and certifies that "pure nature" products by HABA are hygienic and washable. (Fillings made of natural material have very poor drying quality, hence a greater risk of mold. Therefore polyester is preferred). All "pure nature" products are tested by an independent CPSC accredited laboratory, LGA, that specifically control harmful substances. Recommended for newborns and up. (

Watch Video) 11/1/2010 (MSRP: $25.00; Age: 0 to 7)



Schoenhut® Piano Pals Dog Piano by SCHOENHUT PIANO COMPANY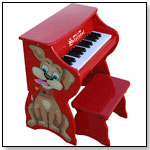 This versatile new little piano grows with your child! The main unit, decorated with a whimsical animal's head, is perfect for toddlers because it sits safely and squarely on the floor within easy reach of little hands. Later on, the sides with the animal's body can be attached, conveniently raising the piano to a comfortable upright height for an older child seated at the bench. Schoenhut toy pianos are noted for their excellent quality and unique chime-like tones. The width of the keys promotes proper finger placement, enabling an easy transition to a larger piano.
Awards: Dr. Toy 100 Best Children's Products - 2010 (

Watch Video) 10/11/2010 (MSRP: $105.00; Age: 3 to 9)



Phone Frenzy by BUFFALO GAMES INC.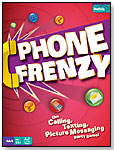 Phone Frenzy is a board game that uses everyone's mobile phone as the primary game component for calling, texting, and sending photos. Every turn, players are given a challenge or activity that can only be completed with the help of one or more of their phone contacts. A challenge might be a race to receive a correct response to "Finish this lyric by Journey: 'Just a small town girl'…" Players pick who they think are the right contacts from their phone and send them a text message with the question. The first player to receive the correct text message wins the round. Launch date: Summer 2011. (

Watch Video) 2/22/2011 (MSRP: $22.00; Age: 14 and Up)



Ice Cream Mugz by GEOSPACE INTERNATIONAL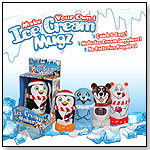 These miniature ice cream makers take three minutes to turn ingredients (sugar, milk cream, water, and anything else like to add like nuts, raisins, or candy) into an iced confection. There's no motor or batteries...the only energy required is a little vigorous shaking. Simply place ice cubes and salt into the lower part of the cup, and fill the top with sweetened juice, milk or cream. Fasten the lid and shake. The salt quickly melts the ice, which makes the aluminum plate super-cold, turning the liquid into ice cream, ice milk, or sorbet. Available in assorted animal characters (polar bear, cat, seal, dog, penguin) (

Watch Video) 2/22/2011 (Age: 4 and Up)



LEGO® Star Wars®ZipBin® Tie Fighter™ by NEAT-OH! INTERNATIONAL LLC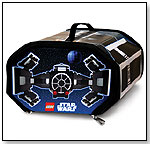 Imagine Darth Vader speeding through the trench of the Death Star after the Rebel fighters, guiding his TIE Fighter in and out of obstacles, Rebel fire, and into space. Unzip the LEGO Star Wars ZipBin TIE Fighter and you find yourself in that very trench. Dodge other starfighters to land safely in the loading bay before fighting your way to the control room. Use the ZipBin TIE Fighter as a space-port garage or storage bin for all the pieces. LEGO Blocks not included. (

Watch Video) 1/25/2011 (MSRP: $11.99; Age: 3 and Up)



Roman Town: The Premiere Archaeology Computer Game for Kids by DIG-IT! GAMES



Roman Town lets the player be an archaeologist and manage a team of diggers while learning about archaeological techniques and uncovering ancient objects. Graphics rendered in 3D let players explore Roman buildings and immerse themselves in Roman history. One can put pots together, exercise puzzle skills with fun mini-games, and find out what archaeologists really do. President of Dig-It Games Suzi Wilczynski told TDmonthly, "Roman Town is unique, educational and, most importantly, lots of fun!"
Awards: The Tillywig Brain Child Award; NAPPA Honors; The National Parenting Center 2010 Seal of Approval; Creative Child 2010 Game of the Year Award; Dr Toy's Best Vacation Product; five 2010 Life Buzz Parent-to-Parent awards. (

Watch Video) 4/29/2010 (MSRP: $39.95; Age: 8 and Up)



Newspaper Dot-to-Dot Vol. 8 by MONKEYING AROUND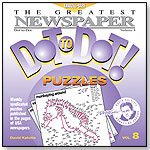 The Greatest Newspaper Dot-to-Dot Puzzles volume 8 is a new 5.5" by 5.5" pocket-sized collection of weekly dot-to-dots that have been published in various USA and international newspapers. Includes difficult dot-to-dot puzzles with no clues as to the final form. The images slowly emerge as the puzzler connects the dots. In addition to traditional connect-the-dots, it includes unique innovations such as connecting odd/even numbers and multiple line variations. 40 pages long with 36 puzzles. (

Watch Video) 1/12/2011 (MSRP: $5.95; Age: 8 and Up)



4D Vision Dolphin Anatomy Kit by TEDCO INC.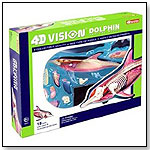 The 4D Vision Dolphin Anatomy Kit from Tedco Inc. includes 18 detachable parts, display platform and illustrated guidebook. A transparent cutaway design shows the inner details of the dolphin's anatomy. Launch date: 2010. (

Watch Video) 4/21/2010 (MSRP: $25.99; Age: 10 and Up)



PickTwo - Deluxe by OUTSET MEDIA



This always changing, ever rearranging crossword game has 60 more tiles than the original and comes in a tile storage bag for travel. Players draw letter tiles and build their own personal crosswords as fast as they can. Whenever players use all their letters they yell, "Pick two" and everyone draws more tiles, which must then be added to their crosswords. Letters and words can be re-arranged, allowing players to use up their tiles. 5/14/2010 (MSRP: $15.00; Age: All Ages)



Around the World Toob® by SAFARI LTD.®



This Toob® contains highly detailed, hand-painted landmarks from cities around the world. An educational insert gives fun facts about the landmarks. Includes Statue of Liberty, Eiffel Tower, Leaning Tower of Pisa, the Pyramids of Giza, and more. (

Watch Video) 3/2/2011 (MSRP: $9.99; Age: 3 and Up)




Fog of War – Strike of the Eagle by MAYFAIR GAMES INC.

Strike of the Eagle is a strategy game that simulates the tenseness of the Polish-Soviet War of 1920. This war featured a return of sweeping cavalry attacks combined with new weaponry innovations such as planes, tanks and armored cars. Gone was the static trench warfare of WWI where front line changes were measured in yards. Instead, the gains of this war's campaigns were measured in hundreds of miles from Kiev and beyond Minsk in the east, to Warsaw and the German border in the west. Strike of the Eagle is the first game in the new Fog of War series. This series covers pivotal wars of different eras, allowing players to relive and learn about the struggles that took place. The heart of this unique series lies in players placing secret orders on the map during each turn to bluff, mislead, misdirect and outplay their opponents! The orders are then revealed and executed by the player's armies that are represented by wooden blocks of Brigade and Division strength forces of between 1500 to 8000 men. The exact composition of a player's forces is kept hidden from their opponent until battle is engaged. For 2-4 players. 1/26/2011 (MSRP: $65.00; Age: 13 and Up)






Copyright © 2015 TDmonthly®, a division of TOYDIRECTORY.com®, Inc.