October 5, 2015

June 2011 | Vol. X - No. 6


Watch Toy Videos of the Day (6/13/2011 - 6/17/2011)
We want you to see the toys we see, so you can determine if they're right for your store! Check this space every weekday to see brief video clips of new and specialty products.

In the spotlight today? Prepare for big sales when you carry Grasshopper Preschool Prep Kit: Getting Our Hands Ready from GRASSHOPPER INC.
Grasshopper Preschool Prep Kit: Getting Our Hands Ready by GRASSHOPPER INC.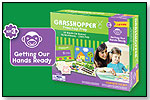 The Grasshopper Preschool Prep Getting Our Hands Ready Kit is packed with playful games and an illustrated guidebook to get children ready for early writing and grasp. Children can feed bugs to Mr.Crunch, play with dozens of reusable stickers, dough stamps, stretchy dough, and more. The Grasshopper guidebook gives parents the tools they need to give their children a head start for school success. Rachel Rudman, President of Grasshopper Inc., told TDmonthly this is "the only product on the market to get kids ready for preschool without electronics and without workbooks ... all fun!"
Awards: Dr. Toy 100 Best Children's Products - 2010 (

Watch Video) 4/28/2010 (MSRP: $29.95; Age: 3 to 5)



Wooden Vehicles by MANNY AND SIMON


These wooden vehicles can be pushed around. The elements of the truck are moveable. Comes in dump truck, tow truck, and helicopter. Made in the USA of 100% post-industrial recycled wood residuals; non-toxic with ultra low odor paint, zero VOC. (

Watch Video) 3/29/2011 (MSRP: $36.00)



Magnatab by KID O PRODUCTS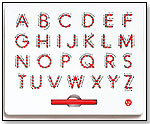 Kids writing their first letters will get helpful up, down and sideways instructions via easy-to-follow arrows. A magnetic stylus pulls beads up to create solid lines. Erases with the tip of a finger. Comes in lower case, upper case, and numbers.
— Mike McCollum, owner of Learning Express in Hoover, Ala., told TDmonthly in a November 2011 survey that their best selling educational product is the Magnatab. "Parents like the way children have fun pulling the magnet around," he said.
Watch Video from Toy Fair 2011 (

Watch Video) 3/2/2011 (MSRP: $28.00)



Automobile™ by MAYFAIR GAMES INC.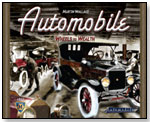 Automobile™ carries you back to the birth of America's car industry, when inventors, craftsmen, and entrepreneurs created a wild array of marvels and misfortunes. You step into this rough, romantic trade hoping to create a fortune by building and selling cars. Tapping the talents of men like Ford, Sloan, Kettering, Howard, Durant, and Chrysler, you balance quality versus quantity, mass production versus premium branding, and innovation versus distribution and aggressive sales. Lose your balance and you go bust. Strike the best balance, shift the right gears to best your rivals, and you'll be rich. You might even win. So, pull up your sleeves and start making cars.

For 3-5 Players. Playing Time 90-120 minutes. (

Watch Video) 6/22/2010 (MSRP: $50.00; Age: 13 and Up)



Les Cheries Capucine by COROLLE DOLLS



Capucine is an Asian doll with all of the familiar elements of the Les Cheries Collection: long, lush hair, and contemporary fashion. Complete with a trendy outfit, Capucine especially appeals to children ages 4 and up. She makes an ideal playmate for sharing confidences, for hairstyling, and fashion play. Launch date: March 2011. (

Watch Video) 3/8/2011 (MSRP: $45.00; Age: 4 and Up)






Copyright © 2015 TDmonthly®, a division of TOYDIRECTORY.com®, Inc.