October 10, 2015

February 2012 | Vol. XI - No. 2


Toy Fair Preview - Manufacturers' Anticipated Hits
Whether you're looking for new toys from your favorite company, or searching for up-and-comers with the next big thing, doing research for Toy Fair ahead of time with TDmonthly's Toy Fair Previews can help your quest go smoothly. Manufacturers told us which of their products they expect will hit it big in 2012. Check them out below, and make sure to add your favorites to your Toy Fair agenda!
Pentago Lite by MINDTWISTER USA


The latest Pentago utilizes the sleek design style of the Multi-Player version in the compact ready to go, two-player version. Pentago is a two-player game in which the object is to create a row of five markers, in any direction, before your opponent does, but with a twist. Each move consists of placing a marker and then twisting one of the four game blocks; simple yet ingenious. 1/6/2012



Makedo™ Find & Make™ Plane by TOYSMITH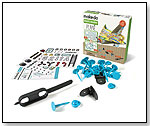 Pick a theme, find the materials, and let the creativity flow. Each kit includes Makedo's reusable re-clips, lock-hinges, safe-saw, an inspirational poster and stickers to complete the creation. Through playful creativity take recyclable materials commonly found in the home and transform them into creations. Exclusive to Toysmith in the U.S. 1/4/2012 (MSRP: $13.99)



Farkle Flip by PATCH PRODUCTS INC.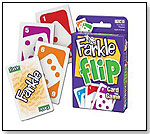 There's no dice to roll in Patch's new version of Farkle. In Farkle Flip™ The Quick-Grabbing, Risk-Taking Card Game™, Patch puts a new spin on the popular family game by turning it into a card game. Players flip cards over, hoping to make combinations to help them win using their own cards or another player's cards. If a player draws a Farkle, they lose their points for that round. But they can score those Farkle cards later – definitely a new twist on Farkle. Launch date: 2012. 1/4/2012



Howly Owls by PIGGY WIGGIES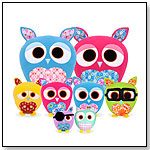 The brightly colored big eyed patriarchs, Mr 'n' Mrs Owl, are large and soft. Their five lively children come as keychains and can be carried around or used as cute, small decorations. Launch date: January 2012. 1/4/2012



Douglas Bird Sillo by DOUGLAS CUDDLE TOYS


Sillos are trendy, fashion-forward purses in the shape of an animal. There are many new styles: bird, elephant, owl, chihuahua, butterflies, and horses! They are sturdy working purses approximately 10" wide with shoulder straps and plastic zippers. Lots of coordinating patterns and colors with that Douglas touch for "Everygirl!" 1/4/2012 (MSRP: $23.00)



My First Play World - Farm by HABA USA/HABERMAASS CORP.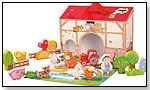 This red-roofed barn has dual purposes, as a handy farmhouse setting for adventures and later as a carry-all for stored farm toys. The large playset includes Farmer Tim, a tractor, 8 animals including a cat and dog, straw bales, shrubs and fencing. Launch date: 2012. 1/4/2012 (MSRP: $49.99; Age: 2 and Up)



Rory's Story Cubes - Actions by GAMEWRIGHT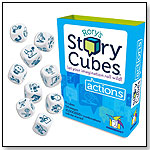 4 dynamic action images - "picto-verbs" get minds in motion. Roll the dice & the creative problem solving, language learning, and story telling begins. "Once upon a time, a giant LAUGHED..." Rory's Story Cubes Actions features 9 cubes that illustrate 54 every day verbs. Players can play with them solo or combine them with other sets of Rory's Story Cubes to kick-start their creativity and set their imagination in motion.
— As of 1/02/2012 this product had 4.4 out of 5 stars from 5 reviews on Amazon.com. 1/3/2012 (MSRP: $9.99; Age: All Ages)



Rapid Reflex by FAT BRAIN TOY CO.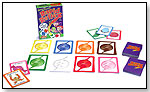 Rapid reflex is a card game that challenges players to match images, colors, and left/right directions. Players take turns reading the action cards. The first player to slap the color that correctly matches the action card, with the correct hand, gets to keep the card. The first player to collect one card of each color wins. 1/3/2012 (MSRP: $8.95; Age: 6 and Up)



Boikido Eco-friendly Wooden Construction Set 100 Pcs by BOIKIDO

This environmentally-friendly wooden Construction Set is made of wood from FSC-monitored source, painted with water-based paints, packaged in a sturdy tub made of recycled materials, and printed with soy-bean ink. Building blocks are a classic. This colorful and high-quality Building Plank Set will attract kids to them like honey to bears. Develop motor and problem solving skills. Comes in a sturdy reusable tub for easy storage. Tested to meet European and U.S. safety standards. Launch date: February 2012. 1/2/2012 (MSRP: $39.99; Age: 1 and Up)



Petjamas™ Minis by SNUGGLETIME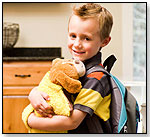 These "PJs" for Pillow Pets™ Pee-Wees pack a pint-sized punch of coziness and cushiness by covering them in soft-as-a-cloud fabric. A combination slipcover, outfit and carrier, Petjamas Minis are the perfectly designed accessory for smaller plush pillow toys. This super soft, super cute and super cleanable cover acts as clothes or a carrying case for plush companions and a pillow case for children. Petjamas Minis make the ideal gift for the child who is inseparably connected to their "little" stuffed friends. Launch date: December 2011. 12/29/2011 (MSRP: $7.99; Age: 3 and Up)



Uglydog™ Uglyhat™ by PRETTY UGLY LLC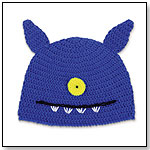 Wait, so you don't have this hat already? You know how the teacher would say let's put our thinking caps on? Well this is the other kind of cap. Sort of. in a good way. See, in the UGLYVERSE™, UGLY means being yourself and expressing your true inner being. So take off your thinking caps and join in on the fun. Yes you...HEY UGLY! Launch date: June 2012. 12/29/2011 (MSRP: $20.00; Age: 3 and Up)



Looking Glass by BRAINSTORMPRODUCTS LLC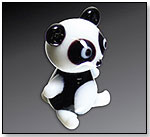 Looking Glass is a highly detailed line of miniature glass figures. Each figure is made from 100% colored glass and they have no paint or tampo printing, so they will never fade. Within our twelve collections there are over 290 different styles to choose from. Launch date: March 2011. 12/29/2011 (MSRP: $4.99; Age: 8 and Up)



Life on Earth Tot Tower by eeBoo corp.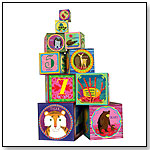 eBoo's eco-friendly Tot Towers are beautifully illustrated with the same characters from our revered "Life On Earth" series. The Tower includes ten sturdy cardboard blocks to nest, stack, and tumble down. Great for children who love to build things as much as they love to see them knocked over. "eeBoo's eco-friendly Tot Tower helps build large motor skills while promoting language and concept development," Regina Gelin, sales & marketing associate at eeBoo, told TDmonthly. Launch date: January 2012. 12/29/2011 (MSRP: $20.00; Age: 2 and Up)



Grow Amazing Polymers group pack by THE YOUNG SCIENTISTS CLUB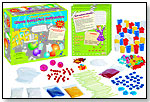 Ms. Frizzle and her students take Young Scientists on a wild ride with The Magic School Bus GROW AMAZING POLYMERS group pack. This kit provides enough materials for 30 students and is great for the classroom, after-school programs, science enrichment, boys and girls scouts, camps, and a Magic School Bus birthday Party. Young Scientists grow super balls, snow, rainbow beads, crystal gels, and polymer flowers while learning about the importance and science of super-absorbent polymers. This kit comes with 30 colorful manuals that are based on the popular Magic School Bus tv and book series. "This is the first Magic School Bus themed group pack on the market, and has enough materials and manuals for 30 children," Esther Novis, president of The Young Scientists Club, told TDmonthly. Launch date: February 2012. 12/9/2011 (MSRP: $79.99; Age: 5 to 12)



Chef Cuckoo! by BLUE ORANGE GAMES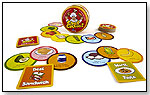 Armed with a stack of Ingredient Cards and a given Food Challenge, create the yummiest or yuckiest meals with Chef Cuckoo. The best—or the worst—chefs will emerge from the kitchen with the stars to prove it. 12/16/2011 (MSRP: $13.99; Age: 7 to Adult)



Green Toys Tool Set – Blue by GREEN TOYS INC.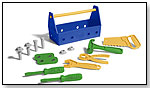 No job is too big for the world's most environmentally friendly tool kit. This 15 piece set includes a tool box, phillips screwdriver, flat screwdriver, hammer, saw, wrench, pliers, 2 two-hole connectors, 2 nails, 2 bolts, and 2 nuts. Launch date: 2012. 12/13/2011 (MSRP: $27.99; Age: 2 and Up)



The Waboba Blast Ball by WABOBA INC.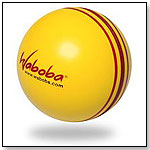 The Blast is made specifically for pool play with its engineered design to be more controllable and not bounce as high as the Extreme and Pro. Since it's lightweight, softer, and easier to catch, it is suitable for the whole family.
— Dean Smith, Co-owner of JaZams in Princeton, N.J., told TDmonthly in a Summer 2011 survey that he sells "about a gross" (144) of Waboba skip balls each month, but it's usually a summer item.
— Michelle Deutschmann, owner of Kaleidoscope Toys in Falmouth, Mass., told TDmonthly in an August 2014 survey that Waboba is their best-selling toy. They sell over 100 each month between two styles of the ball. (

Watch Video) 8/9/2011 (MSRP: $8.99; Age: 3 to Adult)






Copyright © 2015 TDmonthly®, a division of TOYDIRECTORY.com®, Inc.