May 22, 2013

June 2012 | Vol. XI - No. 6


Kits, Play Sets, and Creative Activities for Kids
Get kids away from the TV with these activity toys
Check out these recently added specialty and mass-market kits, play sets, and creative activity toys
Rocks by NORMAN & GLOBUS INC.

Relate rocks to the history of the planet. Uses exciting eruptive experiments to foster comprehension. Mold and slice open a model of the earth, Create a lava fountain to explore density, Spew a volcano, Make pyroclastic eruptions, Discover which rocks will float and which will burn, Identify, break & display volcanic rocks, Sediment sedimentary rocks, Acid test rocks, Explore metamorphic rocks, and Form fossils.
Awards: 2013 TDmonthly Seal of Approval
— John Blair, owner of Science Safari in Cary, N.C., told TDmonthly in a late Summer 2012 survey that Norman & Globus products "are perennial. I continuously do well with these." 4/18/2012 (MSRP: $19.95; Age: 8 and Up)



Sticky Mosaics® Butterfly Mobile by THE ORB FACTORY LIMITED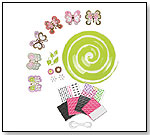 Add a little whimsical wonder to your bedroom with this magical mobile! Follow a numbered legend and add sparkling jewels and tiles to fluttering butterflies and blooming flowers. Attach them to a swirly spiral to create your very own mobile. Launch date: March 2012. 4/4/2012 (MSRP: $16.99; Age: 5 to 10)



PLAY-DECO by MAGNOTE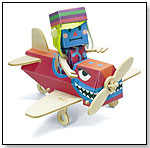 PLAY-DECO is a unique craft for home decor that combines wooden "bone" with paper "skin." Users can either use the skin as is or create their own original works. "You can also download new 'skins' and accessories from the website as well as templates to design your own," Shinya Fujimoto, CEO of Magnote, told TDmonthly. Launch date: January 2012.
Awards: 2011 Good Design Award 2/3/2012 (MSRP: $9.95; Age: 13 and Up)



Playmobil Pirates - Super Set Pirates Cove by PLAYMOBIL INC.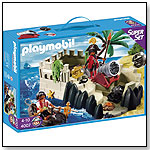 Complete with secret hiding place for storing buried treasure, the Super Set Pirates Cove is the perfect set for young swashbucklers looking for the next adventure. Set includes two figures, a fortress with secret compartment, a working cannon, dinghy and oars, and additional accessories.
— In an April 2012 survey, Ming Yang co-owner of Richard's Variety Store in Atlanta, Ga., told TDmonthly that Playmobil is "always a stable item" in the construction category.
— In a Summer 2012 survey, Cynthia Phillips Strinich, owner of Phillip's Toy Mart in Nashville, Tenn., told TDmonthly that Playmobil was an overall bestselling brand at her store. 4/11/2012 (MSRP: $33.00; Age: 4 and Up)



ZipBin® Dinosaur Explorer Day Tote Playset by NEAT-OH! INTERNATIONAL LLC


This ZipBin® Dinosaur Explorer Day Tote Playset has an has an earthy tone to it with beautiful artwork and prehistoric creatures all over. With softs sides and a handle on top, the tote is convenient to carry anywhere. It is ideal for exploring like an archeologist and for storing favorite collection of dinosaurs. It also holds lunches or school supplies and is great for field trips or camp. When unzipped it becomes a Playmat or placemat that can be wiped clean with a damp cloth. Weighs less than one pound. Includes 2 dinosaurs. (

Watch Video) 3/26/2012 (Age: 3 and Up)



Mega Bloks Lil' Princess Twinkle Castle Tub by MEGA BRANDS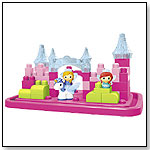 This is the first line of construction toys designed for preschool girls ages 1 and up. Features sparkly translucent blocks, princesses with sparkling tiaras, ponies, and more. This tub includes sparkly and regular blocks, two princesses, and a little pony. Launch date: Fall 2012. (

Watch Video) 2/15/2012 (MSRP: $44.99; Age: 1 and Up)



Snap Case Art Supplies by XONEX


Sets of essential art materials for on-the-go artists. High-quality Thin Markers, Colored Pencils, Watercolor Pencils, and Oil Pastels in clear durable cases. Inner trays neatly hold materials. Expandable handle and snap closure. Descriptive label. AP Non-Toxic. Launch date: January 2012. 4/27/2012 (MSRP: $12.00; Age: 5 and Up)



Clay It Cake Shop - My Princess CupCake by WIDE IDEAS INC.

Kids will have a royal time making their own Princess CupCake. The hardest thing will be picking which of the 5 beautiful designs they want to use to create their masterpiece. Once it's air-dried, the Princess CupCake is transformed into a box to store special treasures. Kit Includes: 1 cream clay (25g ea.), 1 set adaptor, clip & cover, 1 set of 3 nozzles, 6 colors of clay (5g ea.), 1 cupcake storage box, 2 blister molds, 1 pack of glitter, 1 set of instructions, and 1 clay tool. 4/23/2012 (MSRP: $11.99; Age: 4 and Up)



Gingerbread Baking Set by HAPE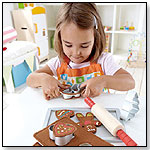 A rolling pin, cookie cutters, and felt "dough" make baking seem real. Flip the shapes over and they're already decorated. Made of Wood, Water based paint, Felt, Aluminium alloy. (

Watch Video) 3/26/2012 (Age: 3 and Up)






Copyright © 2013 TDmonthly®, a division of TOYDIRECTORY.com®, Inc.