July 23, 2018

ASTRA's Best Toys For Kids Nominees - Creative Arts Play
Take a closer look at ASTRA's Best Toys For Kids Nominees in the Creative Arts Play category.

Don't forget to check out the nominees in the other categories:









All Duct Out by ALEX BRANDS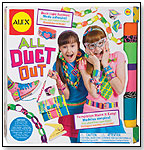 Kids can just tear, stick, and wear. Create unique duct tape fashions using the fluorescent and animal print tape and easy templates included in this fun Alex kit. Get all "duct" out in colourful rings, bracelets, necklaces, earrings, headbands, brooches, belts and more. Includes 8 rolls of duct tape (2.74 metres each) and other items needed.
Awards: 2013 TDmonthly Seal of Approval
— In a Summer 2012 survey, Deran Muckjian, owner of Catch a Falling Star in Lexington, Mass., told TDmonthly that "anything Alex releases that has to do with duct tape" becomes a best seller at his store.
— In a Fall 2012 survey, two out of 12 retailers told TDmonthly that duct tape kits from ALEX were their best selling hobby item.
— In a December 2012 survey about bestselling toys, four out of 12 retailers said that Duct tape kits from Alex were their bestselling Arts & Crafts toy.

3/13/2012 (MSRP: $25.00; Age: 7 and Up)



Loopdedoo by ANN WILLIAMS GROUP LLC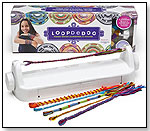 Loopdedoo is a new spinning tool that makes fabulous twisted bracelets in just a few minutes. It's fast, easy and fun. Just wrap the threads around the Loopdedoo device, turn the knob, guide the thread and minutes later the bracelet is done. Kids can even make necklaces, anklets, belts and more. There's no pattern to follow so each accessory is completely different and unique. Kids can use as many threads and color combinations as they like, and can make them thick, thin or anywhere in between. Launch date: November 2011.
— In a January 2012 survey, Barbara Finblum, owner of Barston's Child's Play in Baltimore, Md., told TDmonthly that Loopdedoo is their best selling arts and crafts toy. "They came in in December and we sold 194 out of 5 stores - 163 out of 3 stores alone. We sold out and couldn't get them back," she said.
— As of 10/5/2012 this product had 4.5 out of 5 stars from 8 reviews on Amazon.com. Pros: Easy to use; promotes creativity; fun. Cons: One user couldn't figure out how to start.
— In a Fall 2012 survey, Dean Smith, owner of Jazams in Princeton, N.J., told TDmonthly that they sell 15 of this item each month, making it one of their top-2 sellers in the Hobby category. 12/15/2011 (MSRP: $34.99; Age: 8 and Up)



Sunflowers Master Kitz by KIDZAW INC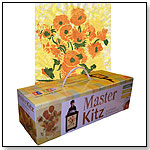 Sunflowers have been become an iconic symbol of van Gogh's work. Many of his Sunflower paintings were done in the Yellow House in Arles and were used to decorate the room he created for Gauguin. The vibrant colors and simplistic beauty of the paintings have led many artists to try and duplicate their beauty. The Sunflowers Master Kitz includes all the tools your child needs to create their own Sunflowers masterpiece and the learning materials to deepen their understanding of van Gogh the artist and the time he spent in Arles. Each Sunflowers Master Kitz contains: A sturdy, re-usable art tool box with magnetic closures; 3 Custom Acrylic Paints (child friendly); 1 van Gogh Roller specially designed to replicate van Gogh's active stroke; 2 re-usable Sunflower stencils; 1 foam paint brush; 2 pieces deluxe art paper; Fun, easy-to-understand van Gogh learning materials; Easy-to-follow step-by-step instructions.
Awards: 2013 TDmonthly Seal of Approval 5/25/2012 (MSRP: $29.99)



PlushCraft™ Butterfly Pillow by THE ORB FACTORY LIMITED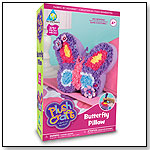 Create a stuffy plushy pillow. Use the stylus to punch pretty fabric and make this fun and easy fabric-by-number craft. Add funky foam pieces and sparking jewels to complete the fluttering friend. This no mess craft teaches number and pattern recognition and creates a finished product that is sure to brighten up any little girls' room. Launch date: March 2012. 3/5/2012 (MSRP: $16.99; Age: 4 to 12)



Stick'n Style® Cupcake Clutch by THE ORB FACTORY LIMITED



Look sweet as sugar with this Cupcake Clutch. Follow a simple numbered legend and add over 150 sparkling jewels to create this tasty clutch. Skip right to dessert and pair this with any outfit for some funky fashion flair. Launch date: March 2012.
— In a May 2012 survey, two of 13 retailers said that The Orb Factory was a best selling brand of activity kit. 4/4/2012 (MSRP: $14.99; Age: 5 to 12)




See more products in our 2012 ASTRA Preview: 28 Toy Makers Share Products for SpecialtyPrepare for ASTRA with our 11 Retailing Tips on Making the Most of Your Time at Trade Shows





Copyright © 2018 TDmonthly®, a division of TOYDIRECTORY.com®, Inc.