September 21, 2018

ASTRA's Best Toys For Kids Nominees - Game Play 8 yrs+
Take a closer look at ASTRA's Best Toys For Kids Nominees in the Game Play - 8 yrs + category.

Don't forget to check out the nominees in the other categories:









Mysterious Creatures by EDUCATION OUTDOORS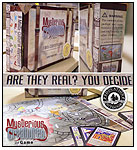 Mysterious Creatures the Game was created to engage player's curiosity in the mysteries of nature that exist across the world. The game takes each player on an adventure/race across the globe in search of their creature's evidence cards. The first player to collect all 3 evidence cards and make it back to their creature's country of origin wins. Along the way players will learn geography, country flags, and a multitude of info about creatures that may or may not exist. All the card art for each creature incorporates the flag of its native country. Other features include the set-backs for natural phenomena like the Bermuda Triangle.
Watch video from Toy Fair 2011

(

Watch Video) 2/22/2011 (Age: 8 and Up)



Duple by ANOMIA PRESS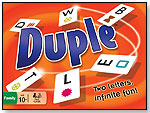 Duple is a quick-thinking game of symbol matching and word-finding. Players flip letter cards in turn until the symbols on two players' cards match. Matching players face-off by being the first to shout a word which contains the letters on both cards. Correct answers must be at least 5 letters long and conform to ever-changing categories. Wild Cards and Cascades create unexpected face-offs and the All Play card gets everyone facing off a once. Distributed by Everest. Launch date: February 2012.
Awards: 2013 TDmonthly Seal of Approval 5/25/2012



Pajaggle Board Game by PAJAGGLE INC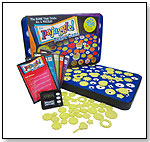 The award winning combination of a game, a brainteaser and a puzzle all rolled into one. Based upon concepts of spatial recognition and visual discrimination, the Pajaggle Board Game challenge players to quickly put unique pieces where they belong. Simple, right? Think again! Pick up a board and give it a try.
Awards: 2013 TDmonthly Seal of Approval, 2011 Tillywig "Best Family Fun"; 2011 Major Fun: Keeper Award (First puzzle game to ever receive such an award); 2012 Astra Best Game of the Year; 2012 Creative Child Magazine: Game of Year Award (

Watch Video) 3/26/2012 (MSRP: $29.99; Age: 8 and Up)



Electronic Labyrinth by RAVENSBURGER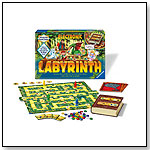 Collect the magic gems and free the Wizard in Electronic Labyrinth. The enchanted Labyrinth is in danger. The evil witch Grimelda banished the wise wizard Akata, guardian of the Labyrinth, into a magic book. Can players break her evil spell and free the wizard? Dangers lurk everywhere; Grimelda has put a curse on anyone who has tried to save him and turned them into mythical creatures. Contents: 1 playing board, 1 magic book, 37 Labyrinth cards, 17 object cards, 5 treasure chest cards, 4 mission scrolls, 4 magic keys, 4 playing pieces, 60 gems, instructions. For 2-6 players. Playing time: 45-60 minutes. 5/25/2012 (MSRP: $50.00; Age: 8 to 15)



The Castles of Burgundy by RAVENSBURGER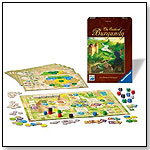 15th century princes from the Loire Valley devote their efforts to strategic trading and building in order to bring their estates prosperity and prominence throughout Burgundy. Two dice set the action options, but the players always make the final choices. Trading, livestock farming, city building or scientific research many different paths lead to the prosperity and prominence of the players. The many ways to gain victory points in this building game require careful thought and extensive planning ahead. The different estates ensure that no two games are alike and that the game remains challenging for long time. 5/25/2012 (MSRP: $39.99; Age: 12 to 15)



TENZI by CARMA GAMES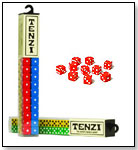 Everyone gets ten dice. Someone says "Go." Then everyone rolls and rolls as fast as they can until someone gets all their dice on the same number. It's a fun, fast frenzy. It's TENZI. It's "Super-simple to learn & super-fast to play," Steve Mark, executive Dice president of CARMA GAMES, LLC, told TDmonthly. Launch date: April 2011.
— In a February 2012 survey about games, Mary Porter Green, owner of The Curiosity Zone in Ashburn, Va., told TDmonthly that she sells 6+ copies of Tenzi each month.
— In a February 2013 survey, two out of 11 retailers told TDmonthly that Tenzi was their best selling game.
— Glisyn Lewis Jarrells, manager of Imaginations Toy & Furniture in Blacksburg, Va., told TDmonthly in a March 2013 survey that Tenzi is their overall best selling product. They sell around 15 copies of the game each month. (

Watch Video) 11/8/2011 (MSRP: $14.95; Age: 7 and Up)




See more products in our 2012 ASTRA Preview: 28 Toy Makers Share Products for Specialty Prepare for ASTRA with our 11 Retailing Tips on Making the Most of Your Time at Trade Shows





Copyright © 2018 TDmonthly®, a division of TOYDIRECTORY.com®, Inc.