May 18, 2013

June 2012 | Vol. XI - No. 6


Magicforest Balanced Learning With Play
TDmonthly's "2012: A Year of Charity" 2nd 1/4 Roundup, Part II
Magicforest Ltd. donated a combined total of 50 Sevi Instrument Sets and Balance Games through TDmonthly's "2012: A Year of Charity." The company is well known by specialty toy retailers for importing unusual and high-quality toys and games from Europe.
Doll House & Toy Store in Scottsdale, Ariz., and one of the winning retailers, especially loved the instrument set.

"I love music as a retailer, a parent, a grandparent and an educator," Sari shared with TDmonthly. "Children enjoy music and musical instruments are hugely important. The charities really liked them."

She also thought the Noah's Ark Balance Game was a great choice. "Balancing toys are always wonderful, especially for little boys," she said. "The fact that there's action, and things crash and tumble, keeps them engaged."





"These are great baby and toddler toys and we sell these in the store," Diana Nelson of Kazoo Toys in Denver reported. Her charities were Starlight Kids and Ronald McDonald House Charities of Denver. "All of the toys were great quality toys with an educational bent."

Dan Driver, owner of Jake's Toy Box in Arvada, Colo., said the Sevi Instrument Set brought a big smile to the face of Carl, the representative from Stride, one of Dan's charities. Carl is a piano teacher and donates lessons to kids owing to the therapeutic benefits of music.

Dan was impressed by the Noah's Ark Balance Game and plans to order from Magicforest Ltd. in the future. The charities were impressed, too.

"We are very excited about the donation and hopefully the media attention this will bring to Jake's Toy Box," said Dana Juniel, director of PR and marketing for The Family Tree. She succeeded in bringing local focus to the event and Channel 8 is preparing a short feature on Jake's Toy Box and the giveaway.
TDmonthly contest. "In addition to the PR it's generated, it provided us with a vehicle to experience joy and happiness during some really bad times."





The charities that Magicforest Ltd. helped out with TDmonthly's "2012: A Year of Charity" were:
Ronald McDonald House of Denver, Starlight Kids, Devereaux House, The Crisis Center, Stride, Hope House of Colorado and Family Tree.

The winning retailers, who were able to stage events at their stores and pick their favorite charities were Diana Nelson of Kazoo Toys in Denver, Dan & Jill Driver of Jake's Toy Box in Arvada, Colo., and Sari Powazek of Doll House & Toy Store in Scottsdale, Ariz.

Specialty toy store owners: Enter to win the latest round of TDmonthly's "2012: A Year of Charity" and get the chance to give away 100s of educational products to your local schools and children's charities! Find out how here.
Sevi Instrument Set by MAGICFOREST LTD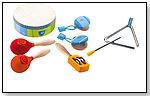 Music is a wonderful opportunity for little ones to expand their sensory and imaginative personality. Music helps them to understand rhythm and harmony, and also to express themselves and their moods. This set of percussion instruments from Sevi is an easy way to get kids started. It comes with 8 pieces, including a tambourine, castanets, a triangle, maracas and a noise maker. Produced by Sevi, Europe's oldest wooden toy company, this product contains parts and components that are recommended for children ages 2 and up. (

Watch Video) 3/26/2012 (MSRP: $35.00)



Sevi Balance Game by MAGICFOREST LTD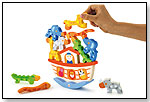 Noah's Ark Balance Game comes with pairs of brightly painted wooden animals and can be played either cooperatively or competitively by the entire family. Kids learn about weight distribution and how the shape of an object affects where it is able to be balanced. Played against an opponent, kids learn to place animals just so their opponent has difficulty finding a spot for their piece. Pieces are the perfect size for ages 3+. Kids can also work together to see how quickly they can stack all the animals on the rocking ark. Sevi is Europe's oldest wooden toy company. 3/29/2012 (MSRP: $35.00; Age: 3 and Up)






Copyright © 2013 TDmonthly®, a division of TOYDIRECTORY.com®, Inc.