May 21, 2013

July 2012 | Vol. XI - No. 7


Top-10 Most-Wanted Furniture and Play Houses
Guidecraft provides sturdiest sales
With additional reporting from Chris Lundy and Brenda Ruggiero

In a May 2012 survey about best selling furniture and play houses, GUIDECRAFT was mentioned by three of 11 retailers as the best selling brand. KIDKRAFT and MELISSA & DOUG both got two nods.

Three of the 11 retailers said that they don't sell furniture or playhouses at all. "Being a 1000 sq. foot operation, space is an issue and we sell only doll furniture and no play houses," explained Joe Berardoni, owner of Pun's Toy Shop in Bryn Mawr, Pa.

Three of the retailers also said that they mostly sell large furniture items and play houses during the holidays.

Take a look at the Top-10 most wanted items below, then decide if they're a good fit for your store.

No manufacturer paid to be included in this article. All products listed were designated by editorial staff without regard to the company's relationship with TOYDIRECTORY.com/TDmonthly Magazine.
Classic White Table & Chairs Set by GUIDECRAFT INC.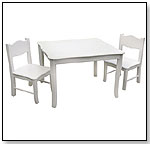 With crisp, elegant lines, durable construction, and a clean white paint job, this kids' room basic goes easily from play to crafts to snacks and back. The 28"-square table is 21" high, and the two chairs have 12" high seats to accommodate little ones but not be so short that an older child will be uncomfortable.
― Of 48 retailers who participated in a May 2010 survey, two named GuideCraft as their top-selling furniture brand for kids.
— In a May 2012 survey about furniture and playhouses, three of 11 retailers told TDmonthly that Guidecraft was their best selling brand in the category. 6/22/2010 (MSRP: $160.00; Age: 3 and Up)



All In One Play Kitchen by GUIDECRAFT INC.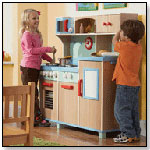 The All in One Play Kitchen is a canvas for little cooks to practice pretend-play skills. It is full of details that are designed to enhance play value and lead to hours of fun, including a refrigerator, a sink, a microwave, an oven, a dishwasher, a clock with moveable hands and a wall phone. "This product is manufactured to withstand years of enjoyment," Guidecraft designer Dave Ruddock told TDmonthly.
— In a May 2012 survey, Sherry Grisham, owner of Today's Dolls and Toys in Corinth, Miss., told TDmonthly that this is her best selling furniture item. 7/26/2010 (MSRP: $200.00; Age: 3 to 7)



Hideaway Folding Country Play Kitchen by GUIDECRAFT INC.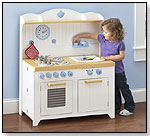 A best-selling concept — children's dramatic play kitchens — just took a great leap forward with the addition of the Hideaway Playtime and Country Kitchens. In a few simple steps, the Hideaway Kitchen compacts to a depth of 6", allowing it to be efficiently stored when not in use. Offers plenty of features including a sink, a stove; an oven; a dishwasher; functioning knobs, clock and more. Adult assembly required. 30"W x 15.25"D x 38"H
— In a May 2012 survey, Maryalice Miner, co-owner of Miner's Doll & Toy Store in Ocean Springs, Miss., told TDmonthly that she sells 3-4 of this high-ticket item each year. 6/7/2012 (MSRP: $220.00; Age: 3 and Up)



Savannah Dollhouse by KIDKRAFT


The Savannah Dollhouse is an elegant, large six-room mansion designed for children ages three and up. The dollhouse is decorated like a true southern mansion and is fully furnished, with beautiful, handcrafted wood furniture. With four levels and six rooms of open space, the Savannah Dollhouse is decorated in a southern style, and includes wide-open windows for easy visibility into the rooms from outside the house. The Savannah Dollhouse fits any 12-inch fashion doll. There are 14 pieces of handcrafted, hand-assembled, and hand-painted wood furniture included with the house to furnish the six rooms. The beds have actual linens, while the couch and love seat come complete with cushions.
— In a May 2012 survey, Mary Horne, owner of J. Christopher Toys in Jonesboro, Ark., told TDmonthly about the Savannah that she sells "upwards of 20 during the holiday season, but it's only a holiday item." 6/7/2012 (MSRP: $149.99; Age: 3 to 6)



Multi-Activity Train Table by MELISSA & DOUG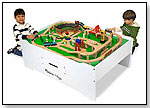 This easy-to-assemble, sturdy wooden play table is ideal for trains, dollhouses, arts & crafts projects, blocks, puzzles and more. It also features a double-sided play board and jumbo-sized drawer for convenient storage.
— In a May 2012 survey, Andy Ricks, owner of My Imagination Station in Hattiesburg, Miss., told TDmonthly that they sell one of these items each month, "but much more around the holidays." 6/7/2012 (MSRP: $149.99; Age: 3 and Up)



Step 'N Store - Natural by KIDKRAFT



A wide base and low center of gravity are utilized to make this sturdy wooden step stool easy to use and safe from tipping over. The top flips open on heavy-duty, no-pinch hinges for a little extra storage that is easy for kids to reach and access.
― "KidKraft natural wooden furniture, the Step 'N Store," said Sandy Challinor, owner of Owl's Nest Toy Store in Southlake, Texas, when asked about her best-selling furniture during a May 2010 survey.
— In a May 2012 survey, Donna Frederick, owner of The Play House Toy Store in Durham, N.C., told TDmonthly that they sell 2-3 step stools each month. "This is a big first year birthday present," she explained. 6/22/2010 (Age: 3 and Up)



Deluxe Kitchen Play Center by MELISSA & DOUG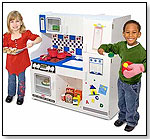 This large wood kitchen from Melissa & Doug is printed with bright graphics and loaded with pretend amenities so kids can take their role-play to the next level. Cabinets for storage above and below the sink, a refrigerator, oven, sink, stove and microwave are designed to accommodate hours of creative storytelling.
― Five of 43 retailers told TDmonthly Melissa & Doug is a best-selling line during a May 2010 survey on best-selling furniture and play house items.
— In a May 2012 survey, John Taylor, owner of O.P Taylor's in Brevard, N.C., told TDmonthly that this is their best selling furniture/play house item. 6/22/2010 (MSRP: $249.99; Age: 3 and Up)



Caro-lini Play Tent by HABA USA/HABERMAASS CORP.

Pop up play tent can be folded down completely and stored in convenient carrying bag. Made of cotton/polyester, mesh fabric, plastic rods.
— In a May 2012 survey about best selling furniture and play houses, two retailers mentioned HABA as a best selling brand. 11/5/2009 (MSRP: $75.00; Age: 3 and Up)



Super Duper 4 Kid Play Tent by PACIFIC PLAY TENTS INC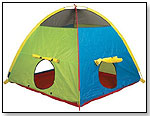 The ultimate Giant "Space Dome" is ready for hours of uninterrupted solar system adventures. Our futuristic "pod" design has ample room for an entire crew of explorers. This new design folds "flat" in seconds and opens just as easy. This stealth flaps, several mesh observation ports, roof top portholes for telescopic viewing and "stuff" pouches for all that space gear. This modular has its own self contained floor, so it can withstand spills and wet grass. Set it up indoors or out. Be prepared to connect the "Space Dome" together with "Lunar Tubes" and additional "Space Domes" for a colony of super play fun.
— As of 06/06/2012, this item was the #3 best selling tent in the Kids' Furniture & Room Décor category on Amazon.com.
— As of 05/18/2012 this product has 4.4 out of 5 stars from 62 reviews on Amazon.com. Pros: Easy to put up and take down; much larger than most tents for kids. Cons: Some users reported difficulty with the zippers. 5/18/2012 (MSRP: $49.99)



Little Tikes Spiralin' Seas Waterpark by LITTLE TIKES INC.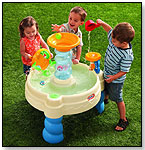 This water table helps children develop "put and take" and early motor skills. They can: drop balls down spiral, watching them go round and round and down into the lazy river; turn the Ferris wheel to scoop up and drops off balls; fill the cup and pour into the funnel to power twin water wheels; and turn the spinner that powers the "lazy river."
— As of 05/24/2011 this product had 4.6 out of 5 stars from 7 reviews on Amazon.com. Cons: Assembly is somewhat difficult; one customer received a box with missing pieces, but the company replaced them when she called.
— In a May 2012 survey, Barbara Fineblum, owner of Barstons Child's Play in Baltimore, Md., told TDmonthly that they "just sell Little Tikes" in the furniture/play house category. 5/24/2011 (MSRP: $39.99; Age: 2 to 6)






Copyright © 2013 TDmonthly®, a division of TOYDIRECTORY.com®, Inc.