May 22, 2013

August 2012 | Vol. XI - No. 8


Gifts
Check out these specialty and mass market gift items, perfect for baby showers, birthdays, holidays, and more:
Liz Teething Rattle by LILLIPUTIENS



Liz the Fairy and Josephine the caterpillar adorn this teething rattle. It also features a bright orange teething ring to sooth sore gums and a nicely decorated tag with which to hold the child's own dummy. The smart, red corduroy with ribbons attached offers a selection of textures to entertain and educate. 5/18/2012 (MSRP: $15.00; Age: 0 and Up)



Maileg Giraffe by MAILEG NORTH AMERICA INC



The Maileg giraffe id made of cotton and wears a knitted shirt. The back end is stuffed with rice, so he can sit. Launch date: May 2012. 5/11/2012 (MSRP: $99.00; Age: 3 and Up)



Black & White Art Cards by WEE GALLERY


A boxed set includes an anteater, Dalmation, lemur, panda, penguin and skunk. Printed on recycled board, these cards will stand up to baby's explorations. Each 5x7" card is beautifully finished with matte varnish and child-friendly rounded corners. Wee Gallery animals are made of high-contrast repeating patterns to stimulate visual development in infants. 4/24/2012 (MSRP: $12.95; Age: 0 and Up)



Expressions Pacifier by ULUBULU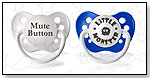 Let your babies express themselves without saying a word. These pacifiers are made of non-toxic, hygienically formed, natural bite-resistant materials designed to form naturally in the mouth, satisfying babies' need for supplemental sucking and provide parents with peace of mind. (

Watch Video) 3/26/2012 (Age: 0 and Up)



Tutu & Blanket by GREAT DIVIDE CORP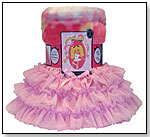 Our blanket and tutu duo is the ultimate for play and nap time. It provides dress up time as well as nap time. Launch date: March 2012. 7/13/2012 (MSRP: $29.99; Age: 3 to 12)



Pull Along Cowboy by MAGICFOREST LTD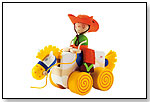 Giddy-Up!! Sevi's award winning design on this Pull Along Cowboy is sure to set children's imaginations soaring. When pulled the cowboy and horse have a realistic gallop and clickity-clack sound. Along with various fabrics and smooth quality hardwood, this little wrangler will surely become a toddler's best friend. Sevi is Europe's' oldest wooden toy maker – since 1831 – using only vegetable-based paints and smooth hardwood. 3/21/2012 (MSRP: $42.00; Age: 1 and Up)



PlushCraft™ Journal by THE ORB FACTORY LIMITED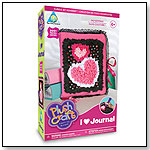 Create a super special journal. Use the stylus to punch pretty fabric and make this fun and easy fabric-by-number craft. Add a pink heart cover and decorate with sparkling jewels. This no mess craft teaches number and pattern recognition and creates a finished product where you can record everything from secret thoughts to homework reminders. Launch date: March 2012. (

Watch Video) 3/5/2012 (MSRP: $16.99; Age: 6 to 14)



Founding Fathers of America Coin Collection by FRANKLIN MINT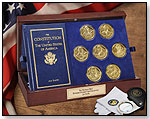 Commemorate with pride the patriotism of the seven men through whose courage and vision gave birth to the nation we love. George Washington, Ben Franklin, John Adams, James Madison, Alexander Hamilton, Thomas Jefferson, and John Jay. Seven magnificently sculpted coins, lavishly coated in 24 karat gold reflect the image of each Founding Father on the front and an inspirational quote from them on the back. The collection comes with a personalizable hardback book of the US Constitution, a magnifying glass and deluxe gloves for studying the coins and a deluxe hardwood display box, also with a personalizable nameplate to preserve and protect the collection for years to come. Also included are a set of history cards that describe the contributions of each of the celebrated patriots and a Certificate of Authenticity. Launch date: August 2012. 7/5/2012 (MSRP: $199.99; Age: 8 and Up)



Pull String Tops by JACK RABBIT CREATIONS INC.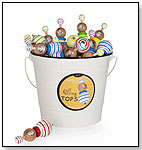 These classic pull string tops are made of wood and painted with multicolored stripes. $24 for bucket of 12. Launch date: 2012. 6/27/2012 (Age: 3 and Up)



Mini Squishable Owl by SQUISHABLE.COM INC.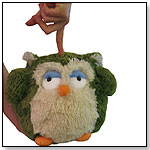 Goodness, are Owls scary. Fearsome terrors of the night, they strike with vicious precision at all things squeaky and crunchy in a wave of silent death...I'm not convincing anyone, am I? All right, fact is, yes, Owls are extremely efficient hunters, but who cares when they're so gosh darn cute. Who wouldn't gladly sacrifice the occasional mouse for those huge eyes, those fluffy feathers, that permanently surprised expression that asks, "Who, me? What mouse? It was like that when I got here. Incidentally, pass the ketchup." 15 squishy inches of innocent bird, polyester fiber, ages 3 and up. Launch date: 2011. 6/25/2012 (MSRP: $19.00; Age: 3 and Up)



Fisher Price Retro Changeable Disk Camera by SCHYLLING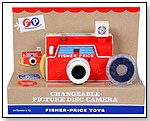 A reproduction of the original 1968 Fisher Price toy, this camera includes 3 interchangeable picture disks that are advanced by pressing the "shutter" button. Other features include a take along strap for the aspiring photographer on the go and a rotating flash cube. 6/8/2012 (MSRP: $24.95; Age: 2 and Up)



ItzaBot Grow-A-Head by SOURCING INTERNATIONAL LLC



Itzabots are robot shaped ceramic planters that kids can customize with any of the included mix and match stickers. Create and recreate new companion as many times as kids like. When kids fill the planter with water and give it a little light, their itzabot will begin to sprout a thick head of grass "hair" within 5-7 days. The hair will continue to grow for 2 months with continued watering and styling. Available in three styles/sticker kits: Monster, Girl, and Robot. 6/8/2012 (MSRP: $9.99; Age: 3 and Up)






Copyright © 2013 TDmonthly®, a division of TOYDIRECTORY.com®, Inc.