September 21, 2018

December 2012 | Vol. XI - No. 12


Holiday Shopping List: Great Gifts for All Kids
Scroll Through Hi-Quality Toys That Any Kid Will Love
You want to be sure each of your holiday dollars is well spent. Following are tried and tested toys that appeal to both girls and boys of every age. TDmonthly has compiled this alternative holiday shopping list for you to take the guesswork out of finding unique, fun toys for your favorite kids. Keep this page on your SmartPhone when you shop. Click on any item to learn more about it, or simply scroll down to learn more—please be sure to double-check age recommendations.

Click here to see our Holiday Shopping List for Girls

Click here to see our Holiday Shipping List for Boys

Click here to see our Holiday Shipping List for Babies

No manufacturer paid to be included in this article. All products listed were designated by editorial staff without regard to the company's relationship with TOYDIRECTORY.com/TDmonthly Magazine.


Holiday Shopping List: Great Gifts for All Kids
Ages 1-4
Stacking Bear From: PLANTOYS
Tranquil Turtle From: CLOUD B
Rody Horse Gold From: TMI TOYMARKETING INTERNATIONAL INC.
Playful Xylophone From: P'KOLINO
Count and Learn ATM Machine From: THE LEARNING JOURNEY INTERNATIONAL
Authentic Cotton Canvas Tee Pee From: PACIFIC PLAY TENTS INC
yetitoy! From: PRINCE LIONHEART INC.
Boxset - Castle™ From: DIGGIN
Puppi Love - Happi Taps From: INFANTINO LLC

Crafty Cottage From: EASY PLAYHOUSE
Bontempi Drum Set with Stool From: THE ORIGINAL TOY COMPANY

Wild Safari® Sealife Flippers, Fins & Fun Set From: SAFARI LTD.®

iBounce Kids Trampoline From: JUMPSPORT INC
Kidoo Pets From: TEEBOO USA
Play Puzzle City From: MAGICFOREST LTD
Rock 'n Table From: Edushape
Ages 4-8
Build It Starter Set From: INTERNATIONAL PLAYTHINGS LLC
PlasmaCar Blue From: PLASMART INC.
Clump-o-Lump From: KNOCK KNOCK
Worm-Vue Wonders From: HSP NATURE TOYS

Magformers Carnival Set - 46 pc From: RAINBOW PRODUCTS
Schoenhut® Guitar From: SCHOENHUT PIANO COMPANY
Jumbo Bananagrams From: BANANAGRAMS

Quadrilla Twist and Rail Set From: HAPE
Perplexus Twist From: PLASMART INC.
Ages 8 and Up
Snap Circuits XP From: ELENCO
Rollick! From: THE GAME CHEF
Bubble Science From: THAMES & KOSMOS
littleBits Starter Set From: LITTLEBITS ELECTRONICS INC
Wits & Wagers Party From: NORTH STAR GAMES
Stacking Bear by PLANTOYS



Updated classic stacking toy with a twist. 4 vibrant wooden rings, teddy bear ball topper, and base. Facilitates hand-eye coordination, learning colors and size relationships. Appealing feel and look that keeps children coming back. Red ball topper screws neatly onto the top of the stack. Made of PlanWood - sustainable material from leftover sawdust. 7/20/2012 (MSRP: $24.99; Age: 1 and Up)



Tranquil Turtle by CLOUD B

Tranquil Turtle is the first Cloud B product that combines both sight and sound features in one soft, comforting character. Glowing in a relaxing aquamarine or amethyst color, the shell projects a magical underwater light effect with a gentle wave motion and plays soothing sounds to help children sleep. Launch date: February 2012.
Awards: 2012 NAPPA Honors, 2012 The National Parenting Center - Seal of Approval (

Watch Video) 2/1/2012 (MSRP: $47.95; Age: All Ages)



Rody Horse Gold by TMI TOYMARKETING INTERNATIONAL INC.



Made in Italy, the Gymnic Line's Rody Horse is a favorite with children to learn balancing and coordination while hopping on their Rody. Used in Therapy for special needs children due to its softness and ride-on qualities. Inflates according to size and weight of child (inflation by adult). Is surface washable with soap and water. Base is available for transforming to a Rocking Rody Horse. Rody is available in 14 colors. Launch date: November 2012. 4/27/2012 (MSRP: $50.00; Age: 3 and Up)



Playful Xylophone by P'KOLINO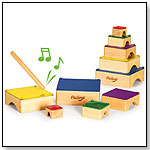 This playful melody maker develops an early interest in music while teaching shape & color recognition. As individual pieces, these colorful blocks allow children to arrange and rearrange to create their very own melodies. When the music is done, nest the blocks together for a quick and easy clean up or stack for a beautiful display. 4/13/2012 (MSRP: $29.99; Age: 1 and Up)



Count and Learn ATM Machine by THE LEARNING JOURNEY INTERNATIONAL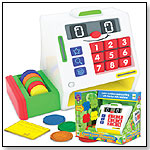 Our count and learn ATM machine will guide children through the grown up world of banking. With three play modes and five different coin values it encourages kids to go to the bank, count coins and determine values. Kids will have a great time inserting the ATM card and entering the PIN number to deposit and release their coins. Requires two "AA" batteries (included). Launch date: 2012. 9/7/2012 (MSRP: $34.99; Age: 2 and Up)



Authentic Cotton Canvas Tee Pee by PACIFIC PLAY TENTS INC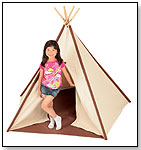 This enormous almost 5 foot tall by almost 4- foot square Tee Pee is large enough for the entire tribe. Made of durable 100% Cotton Canvas, the easy to set-up TeePee can be used indoors. The bright walls feature interesting designs and there is an easy access opening as well as a mesh window for ventilation purposes. The "Authentic TeePee" playhouse features a Cotton Canvas floor for extra comfort and wooden poles. The Tee Pee comes in its very own carry bag for easy storage. 1/23/2012



yetitoy! by PRINCE LIONHEART INC.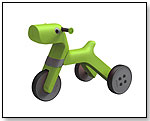 Enhance the imaginary world of children and explore the outdoors with Yetitoy, a ride-on fantasy creature from a far-off land. Customize Yetitoy with additional accessories; horns, saddle or ears. (sold separately). Launch date: September 2012. 7/13/2012 (MSRP: $110.00; Age: 2 and Up)



Boxset - Castle™ by DIGGIN


Boxsets have all the fun without the mess. Boxsets are beautifully designed wooden playsets that fold open for creative, imaginative play. When play time is over, all the pieces store nicely into the compact box which is easy to store. Includes a castle playhouse, a catapult, and four wooden knights. 8/3/2012 (MSRP: $49.99; Age: 3 and Up)



Puppi Love - Happi Taps by INFANTINO LLC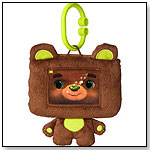 Beary Happi comes to life as the next-generation teddy bear. He combines a classic plush toy, a free app, and the latest multimedia technology from iPhones or iPod touches to create a truly interactive and lovable companion. A mix of snuggly plush teddy bear and interactive fun, HappiTaps is changing the way little ones play. Start by purchasing the HappiTaps cover, then download the HappiTaps app from the App store. Put the cover on a iPhone or iPod touch and watch your a new pal come to life with interaction, games, and activities. Launch date: November 2011.
— As of 10/5/2012 this product had 4.8 out of 5 stars from 6 reviews on Amazon.com. Pros: Keeps electronics safe; App is entertaining and free. Cons: There is no plastic to protect the actual screen. 10/5/2012 (MSRP: $19.99; Age: 2 to 6)



Bontempi Drum Set with Stool by THE ORIGINAL TOY COMPANY

Metallic silver drum set with pedal. Realistic sound; comes in retail box. 2/24/2012 (MSRP: $60.00; Age: 3 and Up)



Wild Safari® Sealife Flippers, Fins & Fun Set by SAFARI LTD.®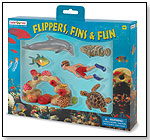 Detailed replicas of tropical marine life and a realistic coral reef surround this young diver with a wild underwater adventure. Exquisite sculpting and attention to detail make this the ideal gift for any child. The packaging features educational information in 5 languages on the back. All Safari Ltd.® products are phthalate and lead free and safety tested to safeguard children's health. We take pride in the quality, innovation and design that have characterized our products for over 3 generations. Flippers, Fins & Fun Gift Set Includes: Dolphin, Sea Turtle, Queen Triggerfish, Grouper, Coral Reef, and Freddie the Free Diver. Box Size: 11" W x 4.75" H x 4" D (28 x 12 x 10 cm) 1/30/2012 (MSRP: $19.99; Age: 3 and Up)



iBounce Kids Trampoline by JUMPSPORT INC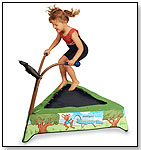 The JumpSport kids trampoline is a fun and engaging way for preschoolers to exercise and learn. Every iBounce also comes with the 12- minute exercise adventure video cartoon, "Hop-Along with RompyRoo™ - Where Is Mr. Fuzzy?" Preschoolers can bounce along with RompyRoo as they help him search for his lost teddy bear. This video introduces basic movement skills and counting concepts as children bounce through the woods, over logs and across lily pads. The iBounce uses a bungee cord system that gives a soft and lively bounce. Plus, the sturdy handle bar adds stability so little ones can safely develop their balance, coordination, endurance and motor skills. Parents that own iPads or other tablet devices can download the cartoon animation, then attach the iPad to the kid-tough, universal tablet mount that's included. Or, kids can watch the DVD version on the TV. To keep exercise activities fresh, the company will introduce a new RompyRoo adventure every few months. Launch date: 2012.
Awards: 2012 Creative Child Magazine Product of the Year, 2012 Dr Toy Best Vacation Product, 2012 Mom's Choice Gold Award, 2012 National Parenting Center Seal of Approval, 2012 Parents Choice Approved Seal, 2012 Parent Tested Parent Approved Winner, 2012 Tillywig Top Fun Award.
— As of 09/13/2012 this product had 4.6 out of 5 stars from 10 reviews on Amazon.com. Pros: Triangular platform helps prevent tipping; Great exercise option for the winter; Rompy Roo DVD is fun. Cons: Assembly is involved, but is doable with two adults. (

Watch Video) 2/15/2012 (MSRP: $129.95; Age: 2 to 5)



Kidoo Pets by TEEBOO USA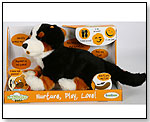 With 9 interactive functions, Kidoo Pets show kids how to nurture, play, and love while having fun. These 18 inch plush toys are designed in France. Kids show signs of caring and nurturing in the earliest years of their lives. As they play, sleep, pet, snuggle, and feed their Kidoo Pet, children develop a strong bond. Teaches kids how to take care of their pet; teaches kids what pets don't like; teaches kids to be patient and loving. (

Watch Video) 3/26/2012



Play Puzzle City by MAGICFOREST LTD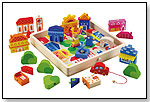 What could be better than a puzzle kids can actually play with? This 28 piece puzzle only fits into the hardwood storage box one way but don't worry, the images are painted in bright colors on the inside and outside. A great on-the-go gift since all pieces fit snuggly in its box and latch shut. Children can build skyscrapers as the roofs of all the building pop off and are stackable. An excellent developmental building toy, pieces are perfect for little fingers and big imaginations. Sevi is Europe's' oldest wooden toy maker – since 1831 – using only vegetable-based paints and smooth hardwood.
Awards: 2013 TDmonthly Seal of Approval 3/21/2012 (MSRP: $70.00; Age: 3 and Up)



Rock 'n Table by EDUSHAPE LTD.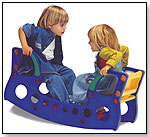 Edushape's new Rock 'n Table is an adorable play table for two toddlers, but turn it upside down and it instantly converts to a see saw. Brightly colored and extremely sturdy, it is a toddler's dream for both indoor & outdoor play. Launch date: August 2012. 7/5/2012 (MSRP: $100.00; Age: 2 to 5)



PlasmaCar Blue by PLASMART INC.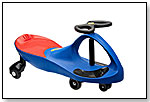 Now more than 10 years old, PlasmaCar continues to intrigue and fascinate with millions of units sole and multiple awards in over sixty countries worldwide. Just sit, put feet up, and turn the steering wheel to propel forward up to 6 mph on any smooth, flat surface. With a maximum weight capacity of 220 lbs., even parents and grandparents have experienced a giggle by taking it for a spin. Made from state-of-the-art, high-quality ABS plastics, this kid-powered, durable, ride-on vehicle comes in a variety of colors.
Awards: 2012 Parents Choice Awards Recommended, 2009 Green Parents List Check Mark, 2009 DisneyFamily.com Top Action Figures and Toys for Toddlers, 2009+2008+2005 The National Parenting Centre Seal of Approval, 2008 iParenting Media Toy Award, 2008 Fat Brain Toy Award Active Play, 2006 TIA Outdoor Toy of the Year - Specialty Toy of the Year, 2006 Oppenheim Toy Portfolio Platinum Award, 2005 Oppenheim Toy Portfolio Gold Seal Award, 2005 Dr. Toy Best Vacation Products, 2005 Creative Child Seal of Excellence, 2001 International Patent Fair, Hong Kong Gold Medal
— Mary Sisson, owner of Kazoodles in Vancouver, Wash., told TDmonthly in a Fall 2012 survey that the Plasmacar is one of her top-2 overall best selling toys. 8/2/2012 (MSRP: $69.95; Age: 3 and Up)



Clump-o-Lump by KNOCK KNOCK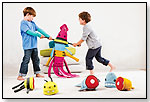 Clump-o-Lump is a line of super-snuggable plush creatures that zip apart into three whimsical pieces—head, torso, and rump—so they can be mixed, matched, and multiplied. With over 2,303 combinations possible, Clump-o-Lumps offer countless hours of fun, imagination, and super-swappable collectibility. The inaugural Clump-o-Lump family includes six characters: Frog-o the Frog, Bee-o the Bee, Shark-o the Shark, Bird-o the Bird, Tig-o the Tiger, and Squid-o the Squid. Just zip-and-match 'em to make 'em tall, small, or anything at all. Launch date: March 2012.
Awards: 2013 TDmonthly Seal of Approval (

Watch Video) 3/16/2012 (MSRP: $25.00; Age: 5 and Up)



Worm-Vue Wonders by HSP NATURE TOYS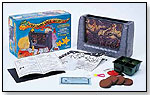 Peek into the underground world of earthworms and discover their earth-saving secrets. See how they turn waste into soil and dig tunnels to create drainage for plants. Perform experiments to demonstrate how worms live and work underground. Have fun with the "Super Squirmin" character cutouts. Made in the USA and Safety Approved. Double-sided viewing, Worm Facts and Anatomy Poster, experiment booklet, and 2 foot Super Squirmin worm cut-out with Superhero hats. Mail-in certificate (send $12.95) for live worms, soil wafers and starter food shipped Priority Mail year-round in the USA, excluding Hawaii. 10/23/2012 (MSRP: $34.95; Age: 4 and Up)



Magformers Carnival Set - 46 pc by MAGFORMERS LLC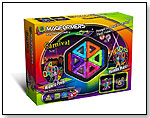 Make carnival rides with Magformers. 144 magnets included in 46 magformers. Twelve triangles and twenty-four squares, two hexagons and eight additional triangles.
— As of 08/06/2012 this product had 4.8 out of 5 stars from 4 reviews on Amazon.com. Pros: Well made, durable; encourages creativity.
Awards: 2013 TDmonthly Seal of Approval 7/20/2012 (MSRP: $79.99; Age: 6 and Up)



Schoenhut® Guitar by SCHOENHUT PIANO COMPANY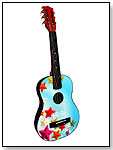 Little rock star swill take center stage playing Schoenhut's "next generation" guitar. Schoenhut's innovative design incorporating a molded composite body with dual curves greatly enhances sound and durability. The birch soundboard which offers excellent tone and resonance, hardwood neck (for rigidity), and molded composite fretboard ensure proper height and spacing of the frets. Six steel strings permit a wide range of rich sounds. Available in several vibrant designs. Includes: Pick and Extra String. (

Watch Video) 1/19/2012



Jumbo Bananagrams by BANANAGRAMS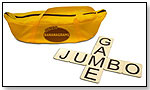 Jumbo Bananagrams features 144 waterproof, three-inch square tiles packaged in a funky giant yellow banana-shaped tote bag. Requiring no pencil, paper or board, Jumbo Bananagrams is addictive fun and educational play for kids age five to 105. Players race against each other to build giant crossword grids and use all their letter tiles. Launch date: Summer 2012. (

Watch Video) 3/8/2012 (MSRP: $44.95; Age: 5 and Up)



Quadrilla Twist and Rail Set by HAPE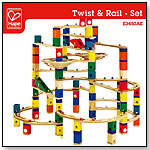 The possibilities are endless with the 147-piece Quadrilla Twist and Rail Set. A combination of straight and curved rails and even funnels plus color-coordinated blocks offers a new level of fascination to a build and play toy. Launch date: January 2012.
Awards: 2006 Oppenheim Toy Portfolio Platinum Award; 2007 TDmonthly Top Seller Award; 2007 Creative Child Preferred Choice Award. (

Watch Video) 3/26/2012 (MSRP: $150.00; Age: 3 to 8)



Perplexus Twist by PATCH PRODUCTS INC.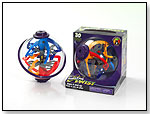 The newest Perplexus model requires a player to twist, turn, and realign the tracks within to escape traps, dead ends, and cliffhangers. A captivating new dimension for the Perplexus family of toys. Thirty transition points.
Awards: 2012 ASTRA Best Toys for Kids – Gameplay/Brainteasers 2/12/2012 (MSRP: $29.99; Age: 7 and Up)



Snap Circuits XP by ELENCO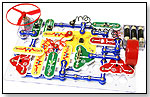 Kids can build and program their own computer. As easy as snapping together the circuits and downloading Elenco's programs. Kids can write their own programs using Basic commands or flowcharts. Includes over 100 projects and over 50 parts. A great introduction to microcontrollers and how they are used in the world around us. Requires 3 "AA" batteries.
Awards: 2013 TDmonthly Seal of Approval 4/24/2012 (MSRP: $99.99)



Rollick! by THE GAME CHEF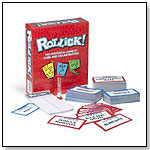 Rollick! is a new hit party game that's a fast and furious team competition. With Rollick!, the entire team works together to act out clue words for one person to guess. It's a hysterical, fun, fast-paced, team competition game that's a hit at parties, family gatherings, work events, holiday celebrations, with friends, and even teenagers. Rollick! can be taught in 2 minutes, played in 25 minutes, and accommodates 6-20+ people.
Awards: 2013 TDmonthly Seal of Approval
— As of 08/08/2012 this product had 4.9 out of 5 stars from 90 reviews on Amazon.com. Pros: A great ice breaker for parties; rules are easy to understand; fun for kids and adults of all ages; fun for small and large groups.

8/8/2012 (MSRP: $19.99)



Bubble Science by THAMES & KOSMOS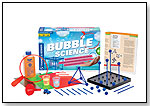 Kids experiment with fascinating soap bubbles to learn physical science fundamentals in a fun way. For countless generations, people have been captivated by the unique properties of soap bubbles. Now kids can see for themselves why these elegantly simple structures of soap, water, and air are still studied by scientists, modeled by mathematicians, emulated by architects, and immortalized by artists and writers. Blow giant bubbles, mini-bubbles, bubbles within bubbles, chains of bubbles, and bubble blankets. Mix the perfect bubble solution. Learn about the love-hate relationship between soap and water, and the scientific phenomenon of surface tension. Observe the subtle colors of bubbles, and discover how a bubble's color can reveal when it will pop. Make geometric bubble shapes and build soap film domes, roofs, and bridges. Kids can also learn some tricks and games that they can play with bubbles. The full-color, 48-page book guides you through 29 experiments. Launch date: Summer 2012. 1/20/2012 (Age: 9 and Up)



littleBits Starter Set by LITTLEBITS ELECTRONICS INC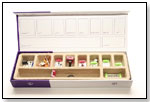 littleBits is a system of modular electronics that snap together with tiny magnets for prototyping and play. The littleBits starter kit is the first kit by littleBits and contains all you need to get started within seconds. Each bit has a simple, unique function (light, sound, sensors, etc), and modules snap to make larger circuits. With a growing number of available modules, littleBits aims to put the power of engineers in the hands of artists, makers and children. Included in the kit are 10 color coded modules (power, input, output, and wire) that snap together magnetically to create larger circuits, guaranteed to keep kids occupied for hours. Comes packaged in an attractive case with a magnetic closure and includes an instruction sheet, 9v battery and a custom plastic screwdriver. 2/14/2012 (MSRP: $89.00)



Wits & Wagers Party by NORTH STAR GAMES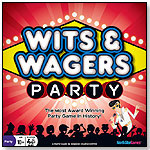 Wits & Wagers Party is the latest version of the award-winning party game. It mixes the fun of Vegas-style betting with hilarious new trivia. Do you know what percent of bank robberies are committed by women? Of course not, and you don't need to! That's the fun. No one knows the answer, but everyone can take a guess. Wits & Wagers Party will instantly get large groups of people playing and laughing together. "Wits & Wagers Party is the simplest and most accessible version of the Wits & Wagers brand, the original trivia game where you do not need to know trivia to win," Luke Warren, PR Director for North Star Games, told TDmonthly. Launch date: July 2012. 2/3/2012 (MSRP: $29.99; Age: 8 and Up)




Still looking for toys? Then check out the ToysRUs Fab 15 Holiday Toys, Walmart's Top 20 Holiday Toys, or Target's Top 20 Holiday Toys





Copyright © 2018 TDmonthly®, a division of TOYDIRECTORY.com®, Inc.